We love our customers and we love sharing best practices on how to make the most of Evercontact. One feature with our subscription plans is the ability to centralize contacts. Here's a great overview to help you decide if our centralization feature can benefit you.
What is Centralization?
Centralization simply means that your team's contacts can be consolidated and de-duped into a single account. The account could belong to one of you, or you could create a new account simply to house the centralized contacts.
Use Cases
A sales team has a TON of prospects, clients, leads and more. They want all of these consolidated into a master account so no contact is lost, for example, if a member of the sales team eventually leaves.

A start-up CEO knows the value of the company's connections and wants access to all of the company's contacts.

Your team wants a consolidated and de-duped CSV file to be able to cleanly import into a 3rd party tool (ex. MailChimp, a CRM, etc).
In a similar fashion maybe you want everyone's updated contacts (again consolidated + de-duped) sent directly to Salesforce.
What to Know
Whether you're using Gmail, Office 365, Outlook, or a CRM (we'll get to that), this allows your whole company to have access to all your contacts' latest details.
On that note, here are some need-to-knows on how it works:
First, you choose which email addresses to sync up, as well as a central address book to receive all their contacts

Newly received contacts are first updated in the recipient's individual address book (as with a normal Evercontact account)

Then we add those contacts to that central address book, CRM, or clean CSV file

Note: Our software automatically de-duplicates recurrent contacts when applicable
There are also slight differences in our centralization offerings across plans:
Essentials – Sync numerous email addresses to centralize contacts in one master address book
Business – Centralize your contacts in an easily transportable CSV file
Enterprise – Centralize updated contact info directly into your CRM (Salesforce, Highrise)
And for the visual learners amongst us…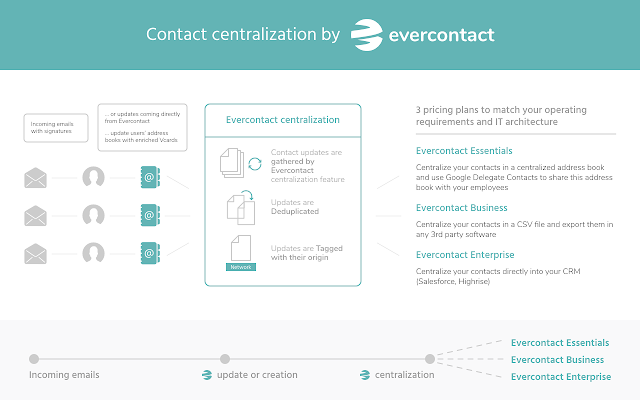 The Ideal Solution for an Effective CRM
Think about how much you may be paying for a CRM…
… But if your contacts are outdated, you're literally throwing that money away. And that goes without even mentioning all the time and effort you're spending on your campaigns.
We've designed our CRM centralization specifically to help you get the absolute most of your CRM. You're putting a lot into your communication and messaging, so it doesn't hurt to ensure you're actually reaching your target audience.
With our Enterprise solution, Evercontact functionality becomes directly integrated into your CRM. What this means: Your Salesforce or Highrise email lists will automatically be kept up-to-date with your contacts' latest data. And all of this runs without you having to so much as lift a finger.
"My team and I have saved hours of tedious contact-updating with Evercontact. Our sales team just started using their Salesforce connection and love it."

~ Ilya Pozin Founder of Ciplex
Setting it up is Quick and Easy
Please note this feature is only available with a paid Evercontact subscription.
Gmail & Office 365:
First, make sure you are the domain administrator of your Evercontact account

In your Corporate Settings, click "Activate your domain users now"

OR – click on the 'Configure my Domain Centralization' in the Centralization tab

In the window that pops up, select the users you wish to share contacts with and your central account
Outlook
Directly in Outlook, access your "Evercontact" tab and then your "Personal page"

Then hit "Start Centralization setup"

Select your desired centralization type

Invite users to your account (they will receive emails to install & join your Evercontact team)

Complete the setup! Feel free to check the "Centralization" tab in your admin settings to modify your configuration if needed
And as always, don't hesitate to reach out to us if you have any questions or hiccups along the way. We're here to help – always and forever!