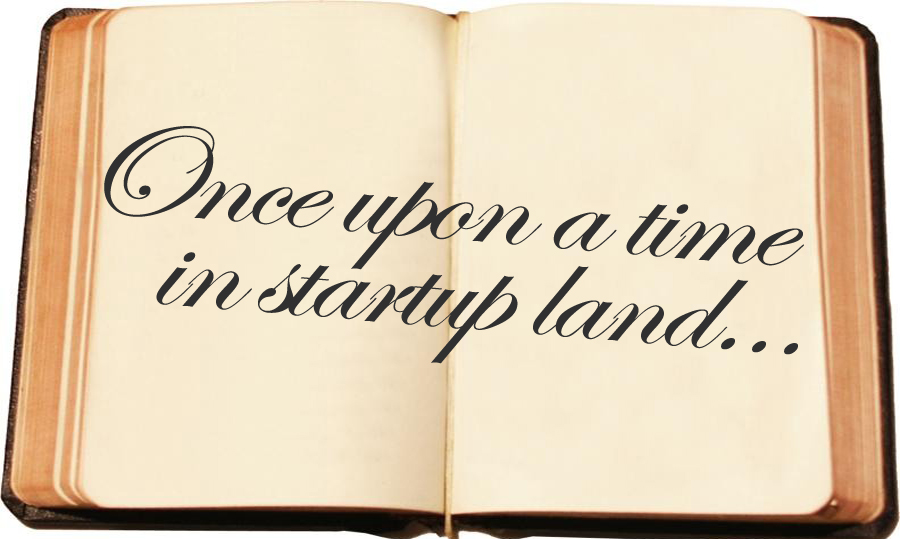 You've heard this story before, but it's never exactly the same story is it…? That adventure of how a startup reaches their first 1000 users finding their product market fit, figures out the wow moment and then launches out of Beta for that big "TechCrunch of Initiation".  Of course, that's a very exciting part of the journey, but any startup that's made it – and many that haven't – know that that's when the real grind starts.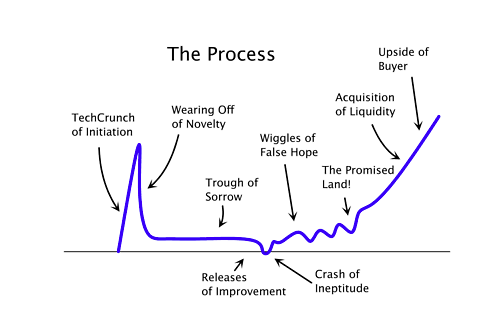 Image courtesy of Andrew Chen | Stellar post on After the TechCrunch Bump
Developing Growth Mechanisms
The ongoing challenge for every startup we've ever met is finding growth mechanisms to scale-up product awareness, acquisition, conversion, and referral…especially during that damn "Trough of Sorrow".  Here's our story of how content creation has helped get us out of the trough, and the tactics and folks that have helped us get there!
Since Evercontact's launch in 2011, we've experimented with oodles of different methods of customer acquisition and happily stolen the hacks that have worked for other startups.  And, yet the four that we continually come back to are marketplace distribution (much like Evernote,) partnerships (resellers + cross-marketing), internal product growth triggers, and these days more and more of content creation.  And, today we'd like to talk about our successes within the content creation sphere!
Drawing visitors to your site through engaging & valuable conten
t
We're a company of geeks.  We admit it, and know that geeks are set to rule the world 🙂  That being said we've always been product people, and creating content didn't come quite as easily at first, but slowly & surely with practice we found our rhythm and it has started to pay off.   We leaned on our community, and thought leaders out there like Neil Patel to get rolling!
Here's the perfect layout of how Neil grew his 3 blogs to over 100,000 monthly visits in just a year & a half!  Below are the points he mentioned that have really paid off for us:
1) Infographics and other Evergreen content
We'd always heard that infographics were great for link-building so last year we rolled out an infographic on email signatures after analyzing 700M emails.  It didn't explode from the start, but a strong PR campaign helped eventually provide over 30 backlinks, 2 of which were from sites with over 90 Domain Authority!  BIG SEO BOOST over night and you can check out Moz for the full details)
Of course, the link-building was great for SEO, but more than that, it's been the continual visits and conversions to users.  Even today we get 200-300 unique visitors/month on the post even if the infographic is over a year old!
2) Write headlines for both people and search engines
Of course, you have to provide content that speaks to your niche, to the readers that would be interested in becoming a part of your community, a potential client of yours. For us this has been 1) contact management 2) address books 3) productivity 4) startup lessons 5) user cases and more.  From there, you'll need to do a keyword analysis to target the search terms that'll bring you more readers/clients.  Along those lines, I actually reached out on Neil's Quicksprout forum and he personally confirmed that rich keyword URLs were definitely a good idea for SEO.
Much like the infographic above, we've found that strong keywords within the URL has been great for continual visits.  Here are a few examples (and remember to stay under 75 characters to be parsed by the bots!):
http://www.evercontact.com/blog/

business-contact-manager-email-signature-microsoft

/ (we did a specific analysis of the most queried keywords around outlook and contacts
http://www.evercontact.com/blog/

how-to-clean-up-the-contacts-on-your-iphone-address-book

/ (over a year old, and still providing 200+ visits/month)
http://www.evercontact.com/blog/

how-to-fastest-way-to-add-contacts-leads-in-salesforce-evercontact

/ (continues to generate 200+ visits/month even if the post was from February )
http://www.evercontact.com/blog/

scrape-contact-details-from-email-signature-block-for-crm-address-book

/ (dense post that we're slowing linking over the web with comment marketing)
3) Cover trending topics  
One of the biggest "address book-related" blow-ups over the past year was linkedin's nifty "Intro" app for iOS.  It was indeed a hack, and one that startups could've gotten away with, but one that caused a BIG privacy/security uproar in October and have actually since been withdrawn from Linkedin's offers.  We threw our hat in the discussion, and argued what might have been contrary to a larger part of the more conservative public opinion ie Why we think Linkedin's Intro team deserved a thumbs up!
If it's a trending topic, you're certainly much more likely to get people's attention, but as always, you need to be in front of them to get their attention!  Choosing the right places to share your valuable content (reddit, hacker news, linkedin groups, forums etc) is an important decision to make, especially as the goal is building a community in those environments, so that they will take interest and hopefully upvote/share your content!  For the linkedin intro post, we chose hacker news and riled up our community there and saw a nice 1000-person spike in the blog visits.  Likewise, our post on why we were dropping freemium brought over 2000 visitors from Growthackers forum.
4) Neil also mentions other things our team will continue to improve on!
Partner up — we've done quite a few guest blogs (Boomerang, Wework, Paper.li, ShuttleCloud, Venture Village) and have had a number of guests on our blog as well (dissecting an email signature, Tips to Turn off and Recharge, community tips on productivity, community tips on contact management) and this continues to be a traffic generator, but we know we need to take it to the next level.  A startup that's done a great job of this is Nimble. Check out all of their contributors!
Quantity is King — we do our best to post every week, but when you're juggling product development, biz dev, customer service, sometimes the day-to-day takes priority over a weekly post… not to mention that we're a small team with only 1 community manager, so for the time being, we've made the choice to focus on quality over quantity!
Collect emails through offers and opt-ins — this is the one where we're failing here as we decided to create a static site that can't collect an email for the blog's updates.  At this point, we're relying on a) seeding to external environments b) social media c) our newsletter where we feature other great articles and typically one of our own (and our partners).
Write in a conversational tone — which we do, and we know it helps generate comments.  But, even more than valuable content delivered in a friendly way, you also need a story to draw people in.  I haven't seen anyone say this better than Alex Turnbull in his recent guest post on buffer.  Not only that, but "the power of story" increased his readership by 300% (and his subscribers do indeed have value to his business- check out his recent post on the ROI of blogging)!
And how is this investment valuable to Evercontact?
At the end of the day, every startup needs more users, and above all more paying clients!  Our blog's readership hovered around 1000/visitors/month at the start of 2013, and has risen towards 3000-4000 the past 6 months with the tactics mentioned above.
Our most recent blog conversion experiment
But not enough blog visitors were converting to trial, so we started experimenting with more clear sign-up CTAs on the blog. Last year we tried this slider like you can see on Intercom's blog, but the impact was minimal, as honestly are many of our A/B tests, but the point is trying a ton of different possibilities and finding that one that will scale up growth in an incremental way… and then finding 50 more like that!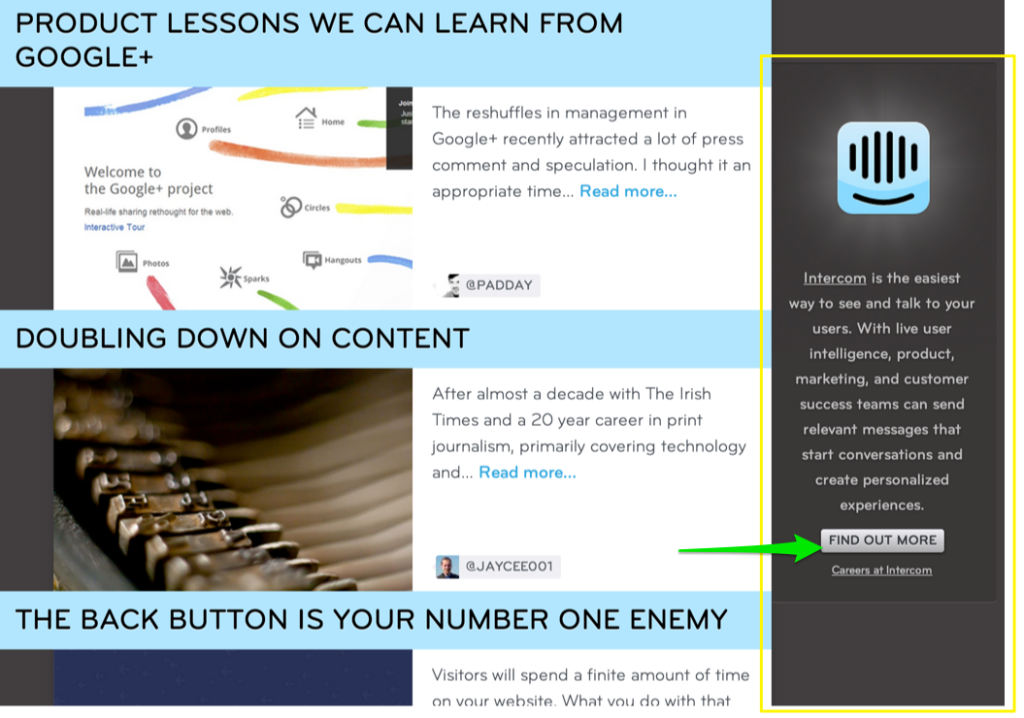 Next, we tried out CTAs at the bottom of the blog as you see here: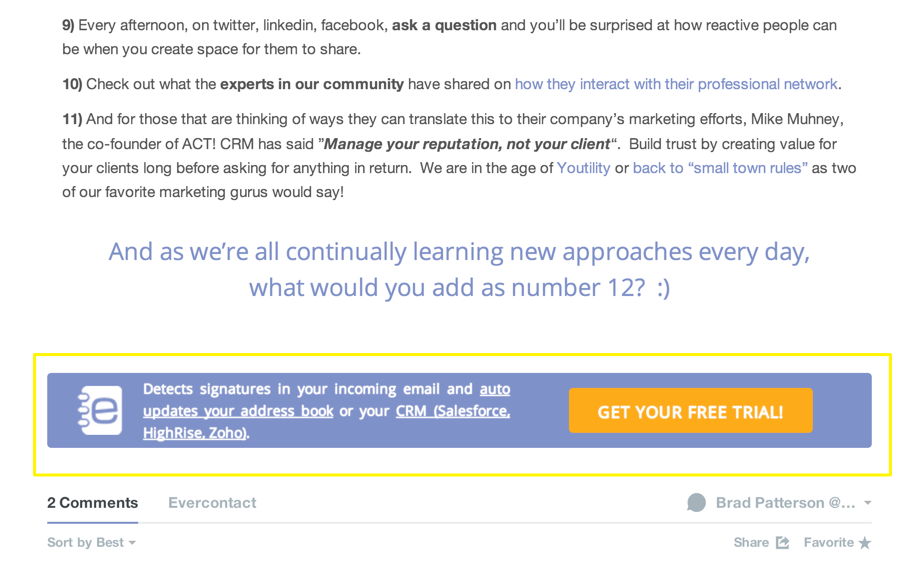 Still, almost no impact, so we decided to search around for more aggressive solutions 🙂  We had seen a number of blogs with those "annoying pop-ups" and the geeks in us thought it was too much, but eventually decided to give it a go all the same to see what the results could be.  We decided to play on the fact that "yes, it was annoying" but that something else was even MORE annoying 🙂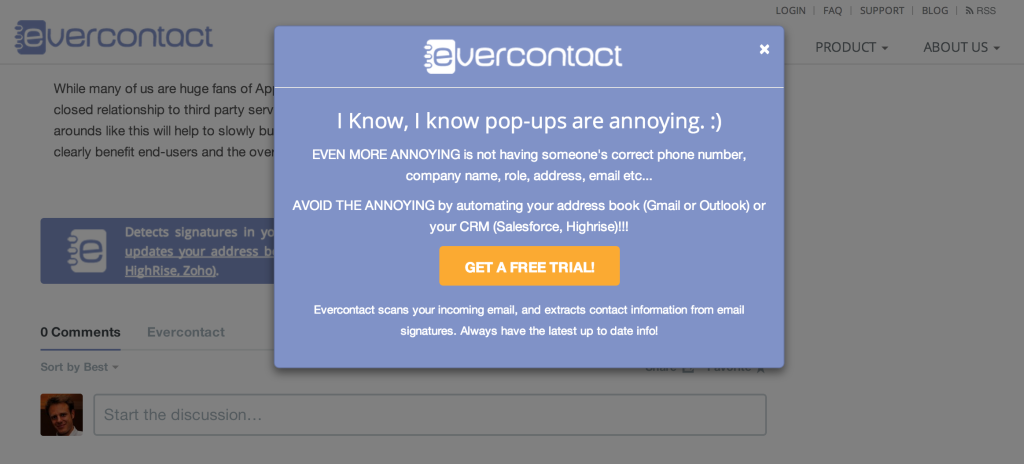 After letting the experiment run for a month, we were quite pleased to find that blog visitor to trial conversion nearly doubled!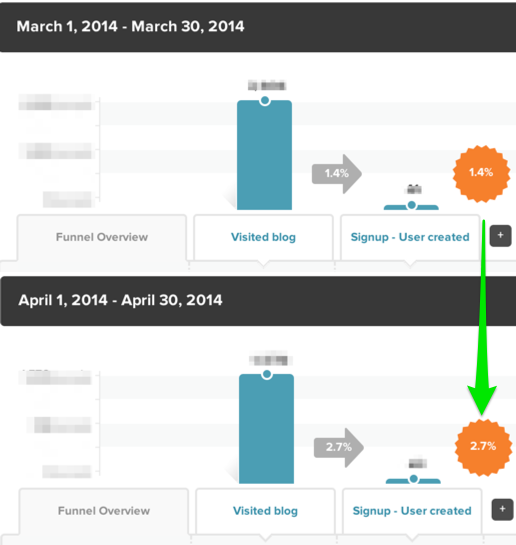 There are some more great tips on how to start, run and grow a successful blog, with Video Tutorials, free eBook, and Audio Book at FirstSiteGuide here!
The journey is a never-ending one, and that's why so many love the energy of a startup, and that's why we'll continue to hack forward and test out new content, new conversion techniques, and of course keep you posted along the way!
So, feel free to give our last "hack" a try and let us know how it goes… and also we'd love for you to "return the favor" and comment below on what's worked best for you to draw and convert blog visitors into clients! 🙂