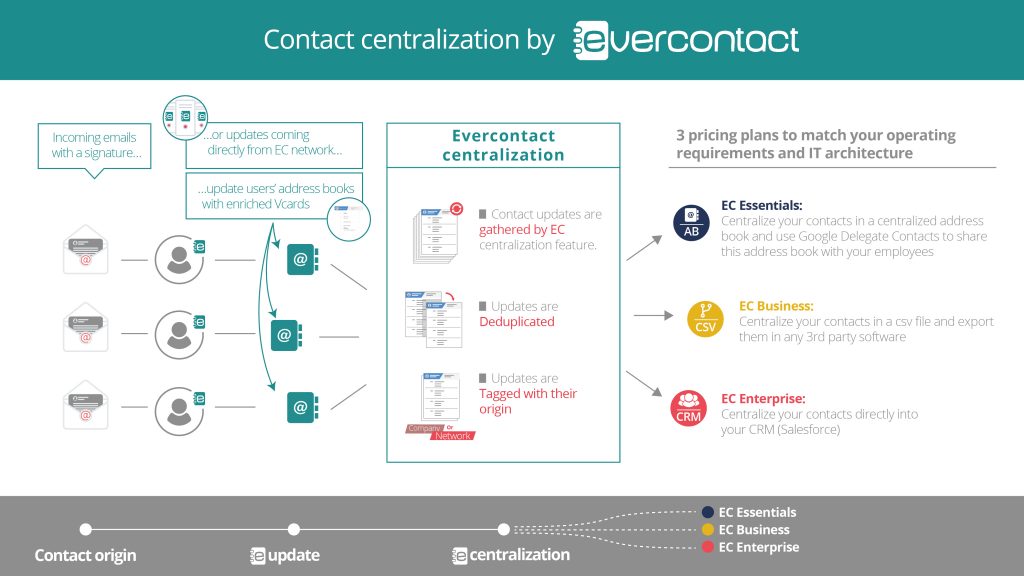 Now you can boost your productivity by centralizing or sharing updated Gmail, Google or Outlook contacts with your company or team via a shared address book or your CRM!
You know that you need an up-to-date address book, whether it is to contact a vendor, client, or potential partner without searching through past emails, and Evercontact's daily service takes care of that … But what about contact updates that your entire team needs? Maybe your colleague has been in touch with one of your main prospects and has a new contact, or new phone number for the existing one, and you are still frustrated leaving messages with the outdated info.
Introducing the solution: Evercontact's Centralization: Now your entire company or team can share professional contacts, whether you are using Gmail, GApps, or Outlook, with or without Salesforce or another CRM, so all of you have the absolutely latest details to reach out to all of your contacts, at your fingertips!
What's so exciting about the new service? Didn't Evercontact always have centralization?
You're right, we do have a way to centralize contact updates into Salesforce, but without that we could update only individual address books. We have some custom solutions for individual clients, but those took time manually setting up so we only had in place for larger clients.
So now, even if a company isn't using Salesforce, they can all access the latest updates in one place?
Yes, now we can automatically set up centralization into a specified Outlook, Gmail, or GApps address book even if you don't have a CRM, and we can also set up an automated csv export so you can use the updates within a homegrown or 3rd party database.

It's a huge boost to smaller organizations that haven't had the time or funds to invest in setting up Salesforce but still want to share the latest contacts so they don't waste time contacting the wrong number or duplicating efforts.
But doesn't everyone have a CRM these days? Don't those take care of the outdated contacts issue?
Actually, according to GetApp, a site where businesses can compare CRM software, over half of Small and Medium sized businesses don't have a CRM. And for those that have, it's only really useful if it has up-to-date data. There are lots of articles out there about typical CRM installations becoming graveyards. SMBs are not taking advantage of integrations and most are still manually updating or relying on custom code to try to keep all of the systems up to date.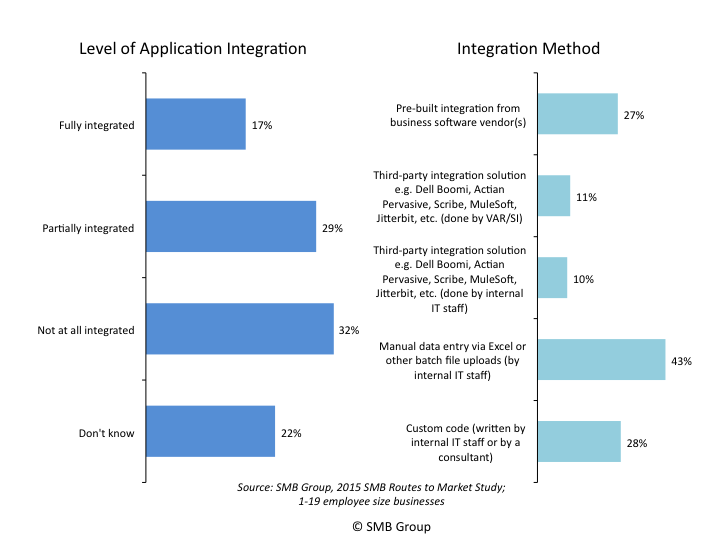 How does the cost compare with a CRM? This can be important especially if a company is already paying for one and they are not cheap!
The centralized plans start at $5 per user per month, and if a ContactRescue is needed, those have a one time cost of $59 per account but we can discount if there are several of them, just ask.

Compared to the cost of a CRM, it's a no brainer. If you don't have centralized contacts, you're wasting time and money with outdated contact info, and if you do, it makes sure that the CRM is actually useful with the right information. So many expensive CRM installs become graveyards for outdated information, which is a shame after all the time and cost involved to set up. And of course, how much value they can bring to your company if used correctly.
How does it work? How long does the setup take?
It's easy to get up and running:

In your personal page settings, you choose which address books you want to centralize

Make sure that those accounts are set up on our daily service, or do a 2 minute installation from

the Evercontact homepage

if not.

Specify an address book that you want to all contribute updates to (or specify automated CSV export or direct to your Salesforce)

Our daily service will monitor each account's inbox for new or changed contact information, including Title, Company, Phone, etc.

We'll automatically add or update your individual address books

And, we'll also update your specified central address book and/or directly to your Salesforce, or automated CSV export for use in another program.

So the next time you are looking for the phone number for Contact Y, you'll all have right one!

Here's a diagram that explains everything: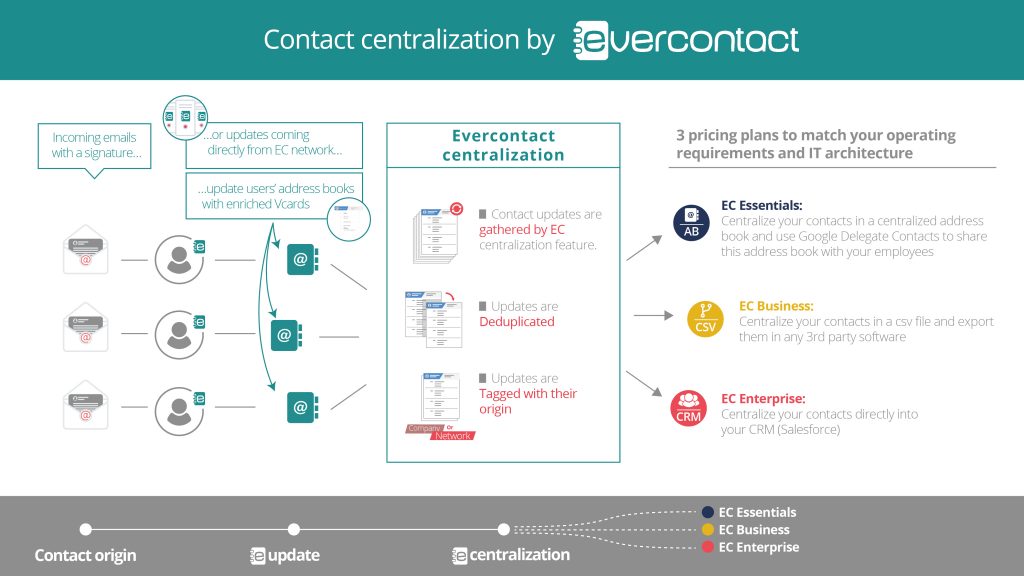 What about past company contacts? Is there a way to make them accessible to everyone?
Yes, once you have the centralization set up, you can run a ContactRescue over everyone's individual accounts, that will recover contact info from older emails into that person's individual address book and the centralized address book as well.

So even if you haven't been in touch with someone for a while and forgot to add them to your address book, the contact will be out of hiding and accessible.

You can even run a ContactRescue on the accounts of people who have left the company – that takes care of the problem of valuable contact lists being lost ongoing.
This all sounds great, but how do I make sure it's going to be useful for my company?
There's a 30 day free trial so you can make sure it's the right solution for your team. And you can set it up yourself for Outlook or Gmail, just start on a free personal Evercontact account, visit your personal settings page and click Centralization to invite your colleagues to test it out. If you are on a GApps domain, you need to track down your domain administrator to install it (ask your tech team), but it's quite quick and easy for them with the same 2 minute procedure.
We are proud to offer this new service and hope it can be helpful for you and your team! Please don't hesitate to contact us with any questions, thanks!