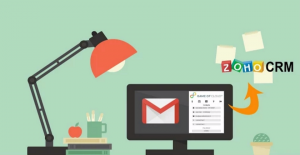 Add Contacts & Leads direct to Zoho CRM from Gmail, via Evercontact's API!
Evercontact's goal is to take care of your contacts automatically so you are free to concentrate on building and staying in touch with your network. So we are absolutely thrilled that Game of Cloud chose us to help them save Zoho CRM clients both time and opportunities for new business: The Game of Cloud Zoho Chrome extension lets you add new contacts, leads, tasks, appointments and more, directly in your gmail and added to Zoho in one click. Skyrocket your Zoho productivity!
Game of Cloud: Essential for Zoho CRM Gmail Users
Game of Cloud is a revolutionary step for Zoho clients using Gmail. Now you can sync your Gmail activity directly to Zoho to save time and make the most out of your company's investment. Game of Cloud uses Evercontact's expert technology to analyze signatures in your incoming emails, and then lets you add them as new Contacts or Leads and log the emails and attachments right there within your Gmail.
With more accurate and timely sales information logged, users and management get a better picture of the sales flow and support needs, so you can improve training, collaborate with colleagues, and never let new leads fall through the cracks.
Here's Game of Cloud for Zoho in action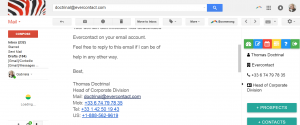 Game of Cloud at work: New signature received & automatically tagged and proposed as a new prospect or contact
"Contact management is the key element of any CRM. We were looking for a solution to allow our clients to quickly add detailed lead information directly from their emails to the Zoho CRM. Thanks to Evercontact's automatic extraction and tagging via the Contact Signature API, we were able to easily integrate this feature.

We were very impressed with the accuracy of Evercontact's results as well as the ease of integration, and our users are delighted!"
– Christian Pompier – Founder & CEO: Game of Cloud
How Evercontact Works with Game of Cloud
In order to provide the smoothest integration and save the step of manually adding new leads, Game of Cloud turned to Evercontact for our expert email and signature analysis technology. Evercontact provides the first step: Analyzing incoming emails for signatures and parsing them. Then, Game of Cloud proposes the extracted and tagged contact information as a possible new Lead or Contact for you to add in just one click.
Game of Cloud Testimonials from Zoho CRM Users
"Great extension. At last a free flowing process from gmail to Zoho CRM. Our mails become a note in the leads file, thus never missing information again."

Useful application! Especially when you are working with Gmail. You don't need to go into Zoho CRM to have information from Zoho CRM!!! You can add an Email contact to an account, contact, opportunity, …directly in Zoho CRM."
Try it out Yourself, for Free!
If you're a Zoho user, you can add the Game of Cloud Chrome extension directly here. There's a 10 day trial with no credit card needed and it installs in seconds with no IT. So you can test it right away to see how it helps you. We promise you'll never want to go back to manual updates!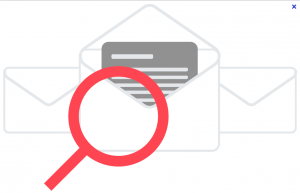 About Evercontact's API
Our Contact Capture and Contact Enrich APIs offer the most complete and accurate contact info along with easy integration. Find Out More about Evercontact's APIs for Developers Here.
We're proud to partner with such a great product and team, and we hope that you find Game of Cloud as helpful as we do! Feel free to leave your comments below.