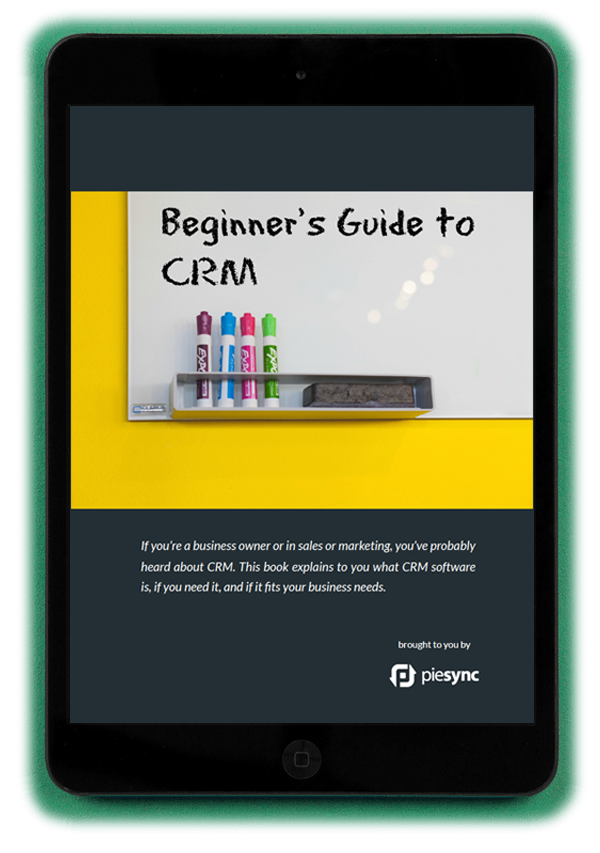 Considering integrating a CRM for your company? It's not an easy decision as involves valuable time and resources. To help out; our friends at
PieSync
have put together a complete
Beginner's Guide to CRM
, including how to decide if you need one and how to choose the right one if you do, and have graciously let us share some of this valuable info right here to get you started. You can download PieSync's full guide
HERE
.
Let's get started with the basic question: Do you need a CRM?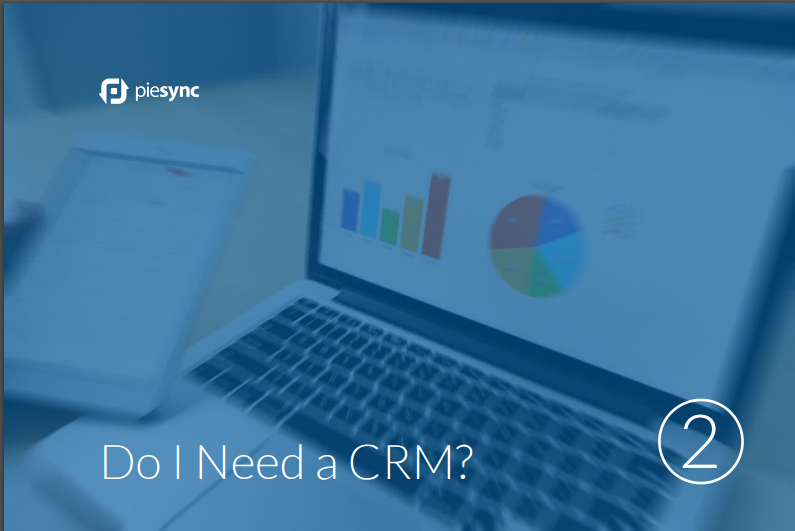 Chapter Two: 6 Urgent Signs your SME Immediately Needs a CRM
(note this chapter was originally published by PieSync here)
There are 6 signs that your SME needs a CRM that are so urgent you can't overlook them. If you recognize these signs early enough, you'll save hundreds of hours of data entry headaches, and remain competitive.
1. You're losing data – A recent study from Experian Data Quality, found that 60% of businesses say incomplete or missing data is the most common data problem they face. If you find it hard to get an overview of your customers, or that the quality of data you have is poor, you need a CRM.
In a CRM, data is centralized in one system so you don't have to hunt through various emails, notes, databases and spreadsheets to find the information you're looking for. A CRM allows the whole team to keep an overview of all customer interactions. For example, if your sales team has some important information about a customer they can update it in the CRM, keeping customer contacts fresh, and the chances of customer information being lost drop to almost zero.
2. You have more than one person working in the database – If you've got more than one person working on your spreadsheets, things get messy fast. One person has a special color code for one thing, the other one likes to put their prospects in a different spreadsheet than their leads. Things only get messier if you've got more than one person working in more than one database.
A report released by Experian Data Quality found that 39% of businesses have more than 50 databases with contact data. What a disaster! A CRM can centralize all of this data, and you can further sort your customers using tagging or by segmenting them. There is no need to have customer information spread across different databases or spreadsheets.
3. Making reports is time consuming and often inaccurate – You know that if you want to get things done in your business you have to be able to accurately track progress to see if you're hitting your targets. But if you find that making reports from your spreadsheet data is painful, time-consuming and often inaccurate, you'd probably be better off with a CRM, which, with a few keystrokes, can produce accurate reports.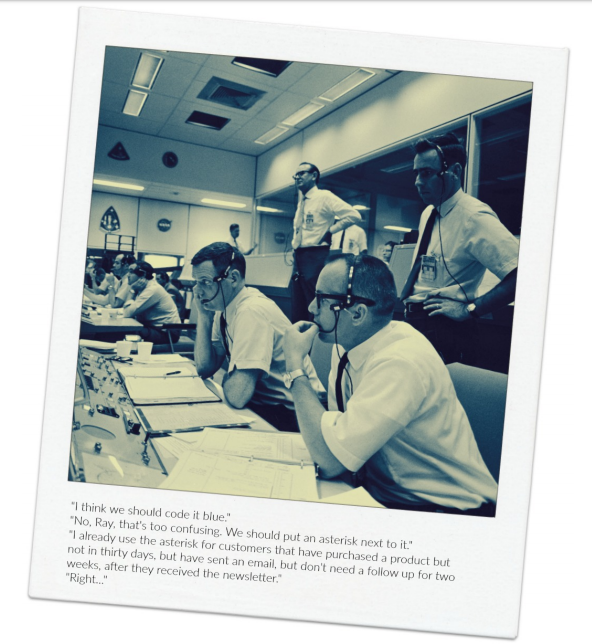 4. You can't stay in touch with on the go teams or remote workers – If you've got a sales team on the road, they need to have access to customer information that's accurate and up to date. If their idea of a good system is scribbling customer info on a piece of paper, then spending hours inputting that data into a spreadsheet, you need a CRM.
You can have your sales team tap that data into their Google Contacts on their smartphones. You can then sync this data from Google Contacts into your CRM in real time, and bidirectionally using PieSync! With a system like this, everyone will always have accurate, up to date customer information in real time.
5. Every customer gets the same treatment – You know what the sales funnel is, but you're finding it hard to implement it. You treat customers who just discovered you the same as you would customers who have been with you for years. According to Experian Data Quality, 76% of businesses believe that poor data is undermining their customer service strategy. When you think about it, it makes sense to communicate with the customer based on where they are in their buyer's journey.
Peter Lavers, Managing Director of WCL Customer Management told us that: A good CRM allows you to segment customers depending on where they are in the sales funnel, so you can then send them tailored content and offers that suit their needs depending on where they are in the buyer's journey.
"It's counter-intuitive to send a customer, who has just purchased the latest model of your product, a discount on a different model, because it signals to them that you don't care about their decisions and – worse- you look aggressive. For customers who have just made a purchase, you want to reinforce their decision and thank them."
6. Your sales and marketing teams hate each other – If your sales and marketing teams are at each other's throats – it's time to create transparency in your company and a CRM can help with this. You can integrate your marketing tool and social media platforms with the CRM that sales are using.
This will allow marketing and sales to share important information, and sales can see what initiatives marketing are taking and marketing can see if these initiatives are working for sales. You'll get these quarrelling siblings working together, and see an increase of mutual trust.
OK, so you've decided you need a CRM, how do you get started identifying the right one for you?

Chapter Four: How to Pick a CRM
Picking a contact management solution or CRM for a small business doesn't have to be hard. The other day I was talking with my friends Johnny B and Big Jim, about the best way for small businesses to approach contact management systems, and we agreed that the process of getting a contact management software solution is much like buying a new car.
How Getting Contact Management Software Is Like Buying a Car
Johnny B was telling me that when he bought his first car he was looking to impress his friends and ride around town. But he didn't have that much money from his after school job flipping burgers at Burgers 'R Us. So he had to buy a second hand car, which he and his brother did up on weekends.
Pretty soon Johnny B met a nice girl and after a few years of dating they got serious. He popped the question at a moonlight picnic overlooking their small town, with their song playing on his trusty car's radio. After getting married, Johnny B got a steady job and he became a father. His old car wasn't going to cut it anymore, there was no room for the baby and the engine cut out at bad times. With some sadness he sold it to a kid who reminded him of himself when he was younger, and bought a safer, SUV, because his wife was expecting twins and they liked to take their dog wherever they went.
The same story goes for contact management systems. Or at least, it should. Some of my dearest friends drive around in cars that are completely unsuited to their needs, like Big Jim. Big Jim loves the bling bling, and when he got the chance he bought a bright red sports car and refuses, to this day, to trade it in even though he can only drive one kid around at a time and can't fit in the groceries. "Yeah but's it's fast, and powerful!" he likes to boast. Big Jim sure likes his car, but he's not very practical about it.
Are Business Decisions Based on Rational Thought?
Come to think of it, I actually know quite a few people in Sales and Marketing who approach CRMs like Big Jim. I hear them say. "Let's get Salesforce, it's the best!". Mind you, these people know, in their hearts, that paying a hefty fee for a CRM that is powerful, but has a steep learning curve, won't magically supply them with a healthy and full sales funnel all by itself. They probably also know that Salesforce is way too powerful just to use it to share a contact list between co-workers and partners.
But still they feel attracted to the market leaders. I can understand that there's a certain something about buying what is considered 'best of breed'. A glow of potential, a feeling of belonging to a tech-savvy group. Let it go, Let it go Like in that song from Frozen, you've got to let those feelings go.
Not all of them though. Emotions and intuition will play a large part in how you interact with your CRM. Your contact management tool is going to be your buddy at work, you've got to make sure the two of you get along. You have to like the look and feel. Trust it. Feel comfortable using it. Know where to turn if something breaks.
Yes, much like with a car. And just like there are small cars that give you a luxurious feeling or large cars that you can still use in a city, there are CRMs to cater for every need. Finding the right one is all you have to do. When you find it, you'll glow inside. Doing your research, defining your needs and then getting the tool that's just right for you,… well, that makes you feel all warm and fuzzy inside.
Should We Continue Without a CRM?
On the flip side, not investigating the possibility of a system to help you manage your contact list, isn't the way to go either. Using nothing might be the cheapest option but, at a certain point, the cost of a system doesn't weigh up against the stress involved in the endless carrousel of Excel sheets and poorly managed shared contact lists.
Taking this back to the cars: I also know quite a few people living in the center of town who vehemently refuse the mere thought of buying a car. They cycle, they walk, they hop on trains and hitch rides with friends. It's good and healthy, but not always easy. Especially when your family expands, or your health isn't too good, it can become a drag. Some of my friends hang in there, and I cheer for them.
In the same way, I applaud people who manage their contacts without a system. They do a quick search of their inbox when in need of somebody's number, as most people will have it in their signature. Or they turn to LinkedIn. Less hassle inputting everything, more time spent interacting with the people behind the contact information.
Just like some of my no-car pals have started exploring shared cars systems when an outing to the country turned into a drenched trek from bus stop to railway station, I see people in small and medium-sized businesses decide to look into some sort of contact management tool when it simply isn't fun anymore to stay on top of their contact database without one.
Now comes the cheapskate part. If you really look into what you actually need, you'll find yourself spending a lot less money. You can then invest this money in other areas of your business. Like buying some plants, so that you can grow your contact database and some flowers on your windowsill at the same time. Now wouldn't that be nice?

Want to find out more specifics, including a glossary of CRM terms and an overview of Top CRMs including Insightly, Highrise, Hubspot, ProsperWorks and Salesforce? As you can see from the above,

PieSync
, who can
keep your contacts in sync between your favorite cloud apps, two-way and in real time are experts and
cover it all in their
Beginner's Guide to CRM right here!
…………………………………………………………………………
And … while we're on the subject, as mentioned in the guide, the right CRM needs to have the right information in it in order to be effective to avoid becoming an expensive graveyard for outdated info. And we by chance have a great way to do that! 🙂
Evercontact can automatically update individual address books (Gmail, Outlook or O365), create a centralized team address book, and, once you have a CRM like Salesforce, directly feed it with the latest contact info, directly from the contact's latest signature info, the most reliable source, so you'll always have the latest phone number, email or physical address to reach out and make that sale (or bug that vendor)!

It's free for the basic plan and you can try the Evercontact Enterprise plan which automatically updates Salesforce and other CRMs for 30 days for free via Salesforce here or by contacting our team at magic@evercontact.com or here to get set up.