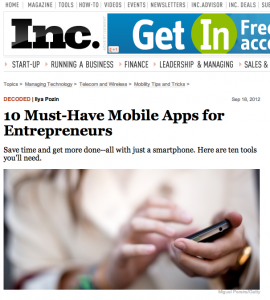 I'm on the go a lot, which means I spend just as much time–if not more–on my phone as I spend on my computer.
How true is this for so many of us?
As I spend most of my time out of the office, my smart phone is even more important to me! So I am quite grateful to Inc. for putting together this excellent list of the must-have mobile applications to increase my productivity.
This list is composed of many applications that I look forward to trying out; however, I must say that I am not surprised WriteThat.name was included. I share Ilya's opinion that,
One of the biggest hassles I run into is when I need to quickly call someone who's not yet saved in my phone contacts. I then have to search through my emails to find the phone number. This is way too time consuming.
WriteThat.name takes care of all it for you, updating your contacts automatically. And if you have it synced with your phone, it goes with you everywhere you are!
Check out this great article and discover some of these amazing applications that will save you your very precious time and energy!