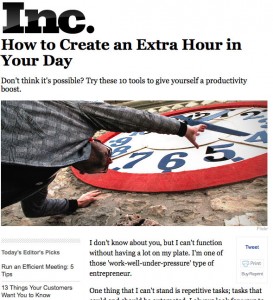 We are all searching for the best way to increase our productivity. Recently Inc. wrote up an article on how to shave an hour off of your day by utilizing 10 tools that automate your repetitive tasks. Again, WriteThat.name was part of this list!
"Usually when I tell people to email me, it's because WriteThat.Name will help me to get their information organized and saved…. I've saved hours of tedious updating through this tool by purchasing a daily merge of information for only $3 a month, but a free version will do the same once a month."
Click here to read the full article.
Keeping your contact information up to date is serious business, and WriteThat.name's ability to detect and update your address book for you will save you serious time every day. It has been such a pleasure watching our vision come to life, and then see so many users realize what a truly powerful service we provide!