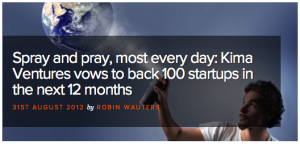 Our great funder Kima has made the headlines again. Kima Ventures, the most active angel investor in the world, has declared that it will be backing up 100 startups in the next 12 months.
Kima Ventures will invest in 100 more startups in the next 12 months, Berrebi promises, all of which will become part of a list that includes companies like Freshplanet/SongPop, Ifeelgoods, Leetchi, Storific, DaWanda, Cake Health, Roomorama, ZooZ, Adility, Kwaga and loads more.
We are proud to be amongst some of these amazing companies, and we look forward to seeing what is coming in the next few months!