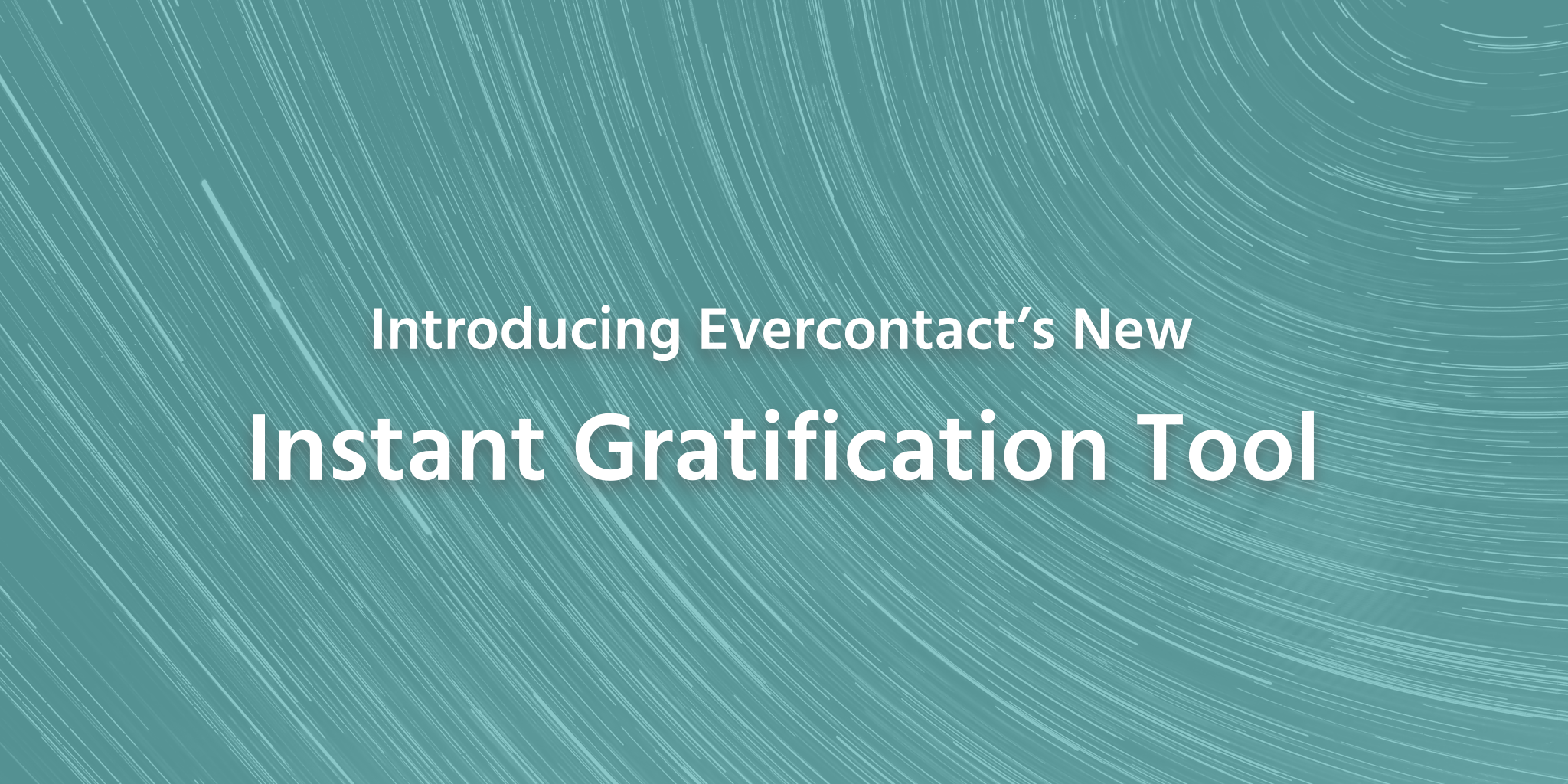 In an effort to up the ante on user experience and better show how Evercontact works, we recently launched our Instant Gratification Tool for new signups.
The goal is to show personalized value right away (we're clocking in at under two minutes to extract contacts from your last 100 emails and add/update your address book accordingly) and give a clear-as-day understanding of how our service works.
Our face paced demo is the ultimate try before you buy.
To get started simply signup on the homepage! After authorizing your account you'll then start the demo. Try it for yourself here.
(please note: New accounts only. Please use an email that is not already on file. Google + Office 365 only at the moment)
You can expect:
Evercontact to run using your last 100 emails (aka a "mini ContactRescue")

Contacts extracted from those 100 emails and then added/updated in your address book in under two minutes

A results page showing you exactly how many contacts were added/updated

Results page also shows you who exactly we added/updated (ex. James who emailed me last week)

Options! Decide which plan is right for you. Evercontact's daily service (for new emails hitting your inbox) or the one-time ContactRescue (for retrieving contacts in your email archives)
Why? They set it and they forgot it.
Evercontact is a simple product. Our set-it–and-forget-it service extracts contact info from email signatures and then adds new contacts for you or updates any new info if the contact exists already. We're biased, but it's brilliant, provides huge value, and requires absolutely nothing from our users beyond authorizing their account.
That said, we had three problem areas.
1 – The waiting game
Because the Evercontact daily service works off new emails it can take some time for new emails to hit your inbox for us to go to work and show you what we do. Not every email has an email signature and not everyone gets the same volume of emails. It could take a few days or even a week to say "wow Evercontact is saving me tons of time and I want to buy it"!
2 – Set it and forgot it
Sometimes we are almost too "quiet". Unless you are paying attention to your address book contacts, our theme of "set-it-and-forget-it" can easily translate to "I don't see the value" or "if it's not in front of me I won't know what's happening".  We certainly could do a better job of showing users just how much value we've provided.
3 – Evercontact daily vs. one-time ContactRescue
It became difficult for us to explain to users that Evercontact (our daily ongoing service that works off new emails) and ContactRescue (our one-time service to bulk add/update via email archives up to 5 years back) are the same technology.
How – More value, more sooner!
We realized that a "mini ContactRescue" could solve for all 3 of our problem areas. Adding + updating contacts using a new users last 100 emails would:
Give the new user immediate value upon signup. Running our service on their

last 100 emails

is certainly better than waiting around for the next 100 to hit their inbox.

Our

results page

could show the user exactly what we did. Showing that we added 15 new contacts and updated info for 7 more is pretty sweet!

It also allowed us a platform to better explain

Evercontact

and

ContactRescue

.




Quick 101: Both use same technology using email signatures to grab info and then add new contacts or update existing ones. Evercontact = daily ongoing service that starts today and adds/updates contacts as new emails hit your inbox. ContactRescue = one-time service to bulk add/update contacts from your email archives up to 1 or 5 years back.
Internally we call it Instant Gratification. It took a team effort and we're extremely proud. We're eager for more data (ex. Is 100 emails enough? Did we clearly explain what we do? Is checkout easy?). Give it a shot and let us know your feedback.
Here's to the future!
We're in this for the long haul and know we need to constantly improve. This is a big step for us. We've decided to phase out our free plan and focus solely on our paid plans. It's all about immediate value and we hope our changes have made a $5/month subscription an absolute no-brainer.
Your contacts are extremely valuable to your success. They must always be readily available, up-to-date and backed up. We are here for you!