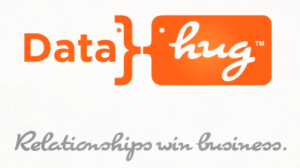 Every now and again you come upon those tools that are so cool you can't help but share them… for example…
Datahug, a relationship search engine
This cool startup from Ireland unlocks the hidden network that exists within every company, and it does it well as I've been testing it the past month and of course, I'm not alone in thinking this as the company has already raised 1.5M$ in the past year while also being honored as the 2011 winner of the Dublin Web Summit's Spark of Genius Competition, and more recently as one of the most innovative Irish Technology Companies at a recent Silicon Valley Summit (ILTG).
So what does it do exactly?
Quite simply, it pinpoints exactly who knows who across your entire company's network (Learn more) which of course can help you win more business, save time and put your energy where it should be— in developing a strong and long-lasting network for your enterprise.
How does it do it?
Datahug uses your current communications traffic (email/crm) to create a private, professional network among colleagues.  (Quick Vid here).  A number of us at WriteThatname have signed up and here are a couple of examples of interactions I've enjoyed since signing up in August.
A nice reminder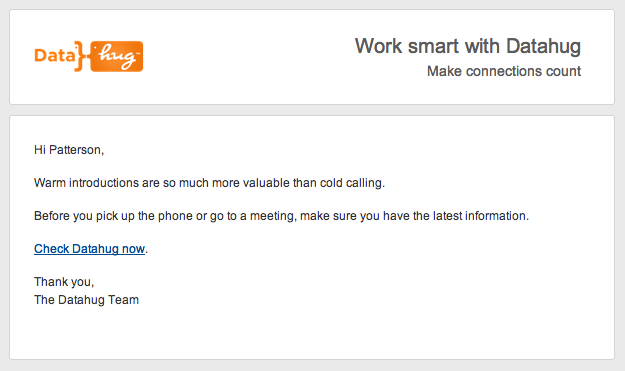 A few examples of new companies that colleagues at WriteThatname (or I) have been communicating with:

It details not only what's happening with new companies in your network, but also specific individuals and how strong the recent interactions have been (or not).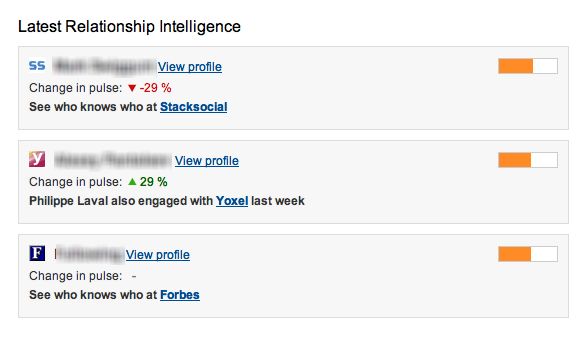 Just as it gives you an overall perspective on how you're engaging your contacts.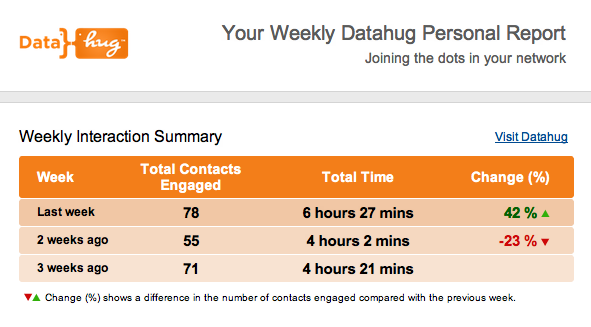 Datahug could just be the tool you've been looking for! Go ahead, give it a try and let me know what you think 😉
-Brad