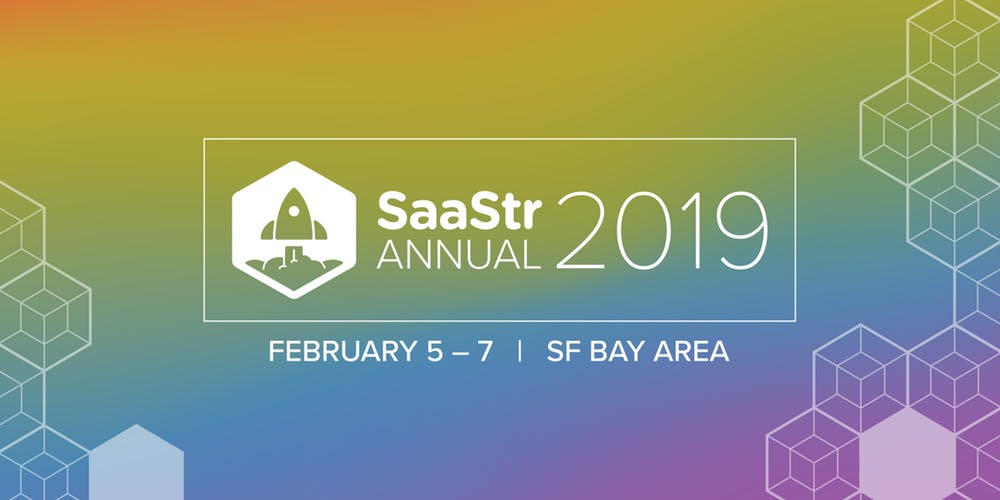 SaaStr Annual kicks off Tuesday! The self-proclaimed "largest gathering in the world for B2B software" will feature 3 full days with over 200 conferences and 300 speakers. There will be plenty to learn, and countless connections to be made and kept long-term!
But with all these valuable sessions available, how do you choose which ones to attend? We've done our homework and identified some absolutely must-attend events.
Check 'em out:
From Freemium to Enterprise with Slack
When: 10:00am – 10:30am, Tuesday Feb 5.
Where: Grand Ballroom BC
Who: Slack's VP of N. American Sales Kevin Egan and Director of Sales Dannie Herzberg
Two of Slack's top sales experts take you on an exclusive journey to highlight some of their most fruitful upselling strategies. Hear their take on the keys to building enough value and loyalty to warrant profitable conversions.
Building a Stellar Engineering Organization: Lessons from Databricks, Apollo, and Salesforce
When: 1:00pm – 1:30pm, Tuesday Feb 5.
Where: Executive Ballroom
Who: Scott Beechuk of Norwest Venture Partners with "world-class SaaS engineering leaders" Claire Hough (Apollo), Vijay Gill (DataBricks), and Weiping Peng (Salesforce)
Engineers with experience at some of the biggest names in tech give their unique insights into the future of SaaS tech. Get a glimpse into what it takes to lead successful engineering teams in today's industry.
Lessons from Survey Monkey: 7 Tips For Using Customer Feedback To Build Rabid Fans And Make More Money
When: 3:30pm – 4:00pm, Tuesday Feb 5.
Where: Hall 1
Who: SurveyMonkey CMO Leela Srinivasan
The only way you can provide value to your customers… Is by knowing what, in fact, they value. Join Srinivasan as she discusses "real-world examples from businesses that are listening and acting on a daily basis."
7 key tips & tricks to getting more revenue per AE with Salesloft, Zoom and Fireeye
When: 4:10pm – 4:40pm, Tuesday Feb 5.
Where: Grand Ballrom BC
Who: Salesloft CEO Kyle Porter, Zoom Head of Sales Ops Hilary Headlee and Fireeye VP of WW Sales Christina Foley
Three industry-leading Sales gurus share their tried-and-true methodologies for getting more out of Account Executives. Expect eye-opening thoughts on negotiating terms, closing deals, and more.
How we did it: Gender Equality, Equal Pay, and Racial Equality with Salesforce
When: 9:45am – 10:15am, Wednesday Feb 6.
Where: Hall 1
Who: Salesforce's Molly Ford (Global Equality Programs Senior Director) and Leyla Seka (VP of Mobile)
Our friends at Salesforce shed light on some of the progressive diversity-minded measures that they've successfully implemented.
Beyond $1B ARR: Lessons from Zendesk on Why the Cloud is Unstoppable
When: 10:30am – 11:00am, Wednesday Feb 6.
Where: Hall 1
Who: Zendesk CEO Mikkel Svane and Blossom Capital Ophelia Brown
We've all witnessed the Cloud improve the way SaaS companies sell and deliver their products. Now, with the scope of its applications widening, learn why "the cloud's biggest days are yet to come."
A Founder's Guide to Getting More Leads — ASAP with Emergence Capital, Zoom and Gusto
When: 2:30pm – 3:00pm, Wednesday Feb 6.
Where: Grand Ballroom BC
Who: Jason Green (Emergence Capital Founder) with Janine Pelosi (Zoom Head of Marketing and Online Business) and Tolithia Kornweibel (Gusto Head of Marketing)
Before you can convert or upsell potential customers, you need to actually get the leads to begin with. This session features three of the industry's premiere marketing whizzes sharing their strategies to this crucial first step.
Founder Confidential: How I Raised It (Real Strategies from Real Founders)
When: 8:45am – 9:30am, Thursday Feb 7.
Where: Lower Level Rooms LL21E-F
Who: An exclusive panel of seven founders and CEOs who have raised over a billion in funds
"Ever get the feeling that you're going about fundraising the wrong way or that your strategy and tactics could be smarter? … Well, these generous founders (from around the world) have agreed to give you the real scoop in small roundtable discussions to help lift up the next generation of SaaS entrepreneurs"
Lessons from Pipedrive: Addressing the Ugly Side of Growth – Good Problems are Still Problems
When: 1:00pm – 1:30pm, Thursday Feb 7.
Where: Hall 1
Who: Pipedrive Head of Sales Tara Bryant
We're all working towards company "Growth," but how do you deal with the problems that arise once you achieve it? As Bryant will expound upon, preparing for success is a critical element of sustaining long-term growth.
Experience or Data? The Art and Science of building a successful SaaS business with IVP and LaunchDarkly
When: 2:45pm – 3:15pm, Thursday Feb 7.
Where: Lower Level Rooms LL21B
Who: Roseanne Wincek (IVP Investor), Edith Harbaugh (LaunchDarkly CEO & Founder), Harry Glaser (Periscope Data CEO & Founder)
Metrics can only take you so far. But at which point should you trust experience over data? This fundamental SaaS question is the focus of this speaker session.
The takeaway?
No matter which conferences you attend and which speakers you interact with, the Saastr Annual 2019 is bound to be a boon for your business strategies and future prospects.
To take full advantage of all the networking you do, use Evercontact to ensure all the valuable contacts you make find their way directly into your address book. Don't let this convention simply be a flash in the pan; do your due diligence to foster the relationships you build into long-term partnerships.
Have fun!