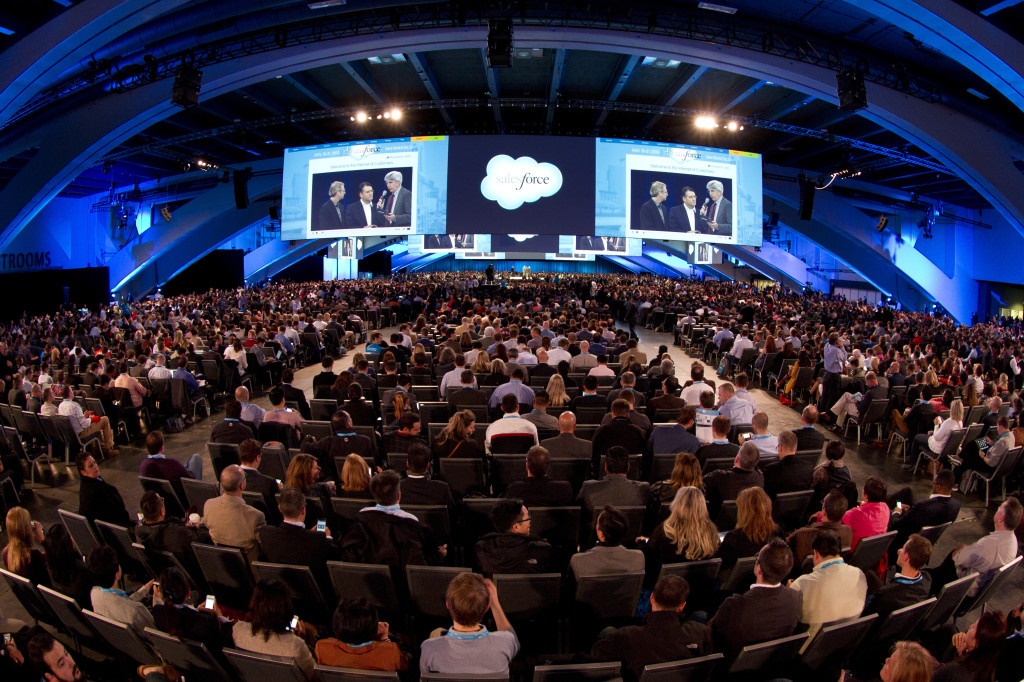 (photo courtesy of  Photo by Jakub Mosur Photography)
Our CEO, Philippe Laval & head of sales, Thomas Doctrinal were at Dreamforce once again this year & can attest to the fact that the Salesforce community is simply exploding, just as you continually hear within the CRM industry.  Beyond an amazing product in and of itself, what was also quite visible at Dreamforce was Salesforce's success in drawing an ecosystem of partners & 3rd party innovation to its Appexchange.  The tens of thousands of apps available there really round out the offer for each company's tailored use.
Anyone with experience in the industry knows that nearly every CRM solution needs a customized integration to be successful and we've certainly discussed thoroughly on the blog before.  Along those lines, today I'd like to share a number of the more notable Salesforce apps that could help tailor your CRM experience & of course improve your sales & marketing efforts.  These are the Salesforce apps that we've found to be the most useful, frequently highest-rated, and ones that our clients at Evercontact tend to mention over & over again.  Full disclosure, yes we also have a salesforce productivity app that automatically updates your contacts & leads' contact information but we're not here to talk about ourselves, but a handful of other apps that'll most surely be of value to you!
So that you can find what could be most beneficial to your business today, we'll divide the Salesforce Appexchange suggestions into Productivity, Data Management, Collaboration, & Sales/Marketing Automation.  Enjoy the list & please feel free to share any apps that we haven't mentioned as, like the ProductHunt community, we're always looking for the hottest new solutions to save us time & supercharge our sales!
PRODUCTIVTY APPS
Power dialer allows you to contact, connect and close more deals by communicating with the right prospects at the right time.  Features include advanced list prioritization, one-click dialing, pre-recorded voice messaging, email, inbound call routing, and more. After a sale is completed, you can also gain insight into what works and what doesn't by analyzing detailed reports around every call.  Communications, Gamification, Predictive Analytics, and Data Visualization.
2) DocuSign Electronic Signatures (eSignature) – DocuSign for Salesforce
DocuSign is the platform that Salesforce uses to finalize its contractual agreements, so that certainly say something! With DocuSign, you can send documents for signature or sign in person from an iPad. Collect signatures anytime, anywhere, on any device.  It is clearly the industry standard and lifts an important barrier to closing a deal, which is making it legal with a signature & in this day & age of a global economy, making that process seamless & trustworthy is pivotal.
If you and your sales team haven't already gone mobile with Salesforce, it's something you really need to consider today so that you can have all of the data you need to close/start a pipeline when that lead is most interested.  Of course, Salesforce's own mobile app is probably the right place to start.  With their app, your team can log a task, take notes, look up an account, update lead or contact records (though of course, Evercontact can automate contact & lead data management as well) and much more.
Sales are exploding for you?  That's great and it also means you're going to need a tight organization to continue to scale them up.  MyDay will help you manage your team, assigning tasks & allowing them to have an easy to-do list right within their Salesforce.  Everybody loves checking off a to-do list & this'll keep things moving forward quickly!
5) Appirio Cloud Sync for Google Apps
Having your contacts & calendar synced in your email & in Salesforce is a huge time-saver and that's exactly what Appirio can bring to your team.  Cherry on the top is of course automated calendar events from a service like Boomerang Calendar & then automated contact updates from Evercontact.
Everyone knows there are good times to call a prospect or customer in the day… before 9am tends to be good & maybe around 3 or 4pm, right?  Maybe you have a different perspective, but whatever your secret is, you certainly can't call someone in Australia at the best time that you could call someone in LA.   See what time it is for each of your contacts & leads & avoid waking them up in the middle of the night. 🙂
Every sales manager knows that there are going to be a number of tough days every month, and maybe every week or a tough hour every day!  Sometimes you need a quick punch of motivation and a few powerful quotes can certainly lift your team's spirits.  Nothing like a few choice words from Bruce Lee to get the team back out there popping towards their next big sale and Quote of The Day certainly comes in handy then.
DATA MANAGEMENT APPS
With Gridbuddy you can create & edit records in a simple UI, even mass-updating multiple records at a time.  Managing your Salesforce data faster will certainly save you & your team a ton of time in the long run, which means you can focus on what really counts— getting your own solution out there!
This handy tool allows you to generate all kinds of documents from templates & customized by your standard/custom objects.  Save tons of time creating & sending proposals, account plans, invoices, quotes, contracts & more in any format you require!  Direct integration with DocuSign and EchoSign accelerates your client pipeline even faster!
Now let's be honest.  Uploading documents to Salesforce isn't always as easy as it could be & these days your sales team has to send contracts, presentations, PDFs, excel spreadsheets & much more to their clients & share with their team as well.  This simple app will allow you to do just what it says, to drag & drop whatever you need so that it's instantly in Salesforce.  Simple & handy… and it's free!
11) Data Loader for Salesforce
Again, if you're going to importing, exporting or deleting a ton of data in & out of Salesforce, having a dedicated UI tool is a huge help, especially if you're not yet especially savvy with the dev tools for Salesforce.  This free tool gets you there & helps keep your data management a much more sane process!
Ever wish you could map out where your clients are, or see which prospects you could go visit if you're heading out to a certain part of town? Geopointe does just that providing proximity searching, optimized routing, territory management, boundary layers, demographics, check in via Salesforce1 and more.  
The self-acclaimed #1 calendar app on the AppExchange with 75K+ users helps you create customizable calendars from any standard or custom object.  This makes it easier to schedule appointments, manage marketing campaigns, plan projects and more with an easier customization & automation. 
COLLABORATION APPS
Is assigning leads a headache?  Who gets that hot lead & how is the account pushed to them?  The sales person with the highest quotas to fill, or is it a random, round-robin type system?  Distribution engine allows you to set up rules to automate this process, be it a 100% equitable sharing of leads, or weighted, as your team requires.
Everyone knows that finding fun ways to boost productivity is a HUGE part of building a high-performance sales team. But how do you do it?  Gamification within Salesforce is exactly what Hoopla provides with leaderboards, contests & games to motivate & track your sales team's progress.
16) DreamTeam Project Management
Real-time collaboration is ever more important & the number of tools out there satisfying this need continues to grow. Add project management on top of that & it takes a very powerful platform to keep your team focused & organized. DreamTeam might just be the tool you were looking for to keep everyone on the same page within Salesforce. 
Be honest… from time to time, we all find ourselves under a pile of emails we need to handle, but their order certainly doesn't come in high priority, low priority & sometimes you can't wait for a teammates to sift through their emails to get to this urgent need.  Voxer's "push to talk" feature allows your team to bounce back & forth on what's important now without having to wait for that answer that'll come hours or days later otherwise.
Excellent customer service makes a brand, and poor customer service churn-churn-churns clients away.  This app's powerful suite of features enables support agents to respond more quickly & manage cases more effectively. Play to win with a faster & more organized support team.
How many of your clients have you actually met face-to-face?  With the explosion of digital marketing & globalization, the trend would seem to be less & less, but of course it doesn't have to be as you can virtually meet nearly anyone in the world these days with the click of a finger.  GoToMeeting can do this for you right within Salesforce, launching meetings, easily scheduling meeting, emailing contacts and much more.
SALES  & MARKETING AUTOMATION + ANALYTICS
Ever wished you could better understand what happens after you hit "send"?  I mean, it's email so you can't "read" the person in front of you like you used to in the good ol' days, or even hear their voice on the phone.  There within lies part of Yesware's secret sauce- now you can get hints of how interested they are, and tools to make sure you keep them in that place of interest.  We've done a full review of their app which you can read above & of course it integrates very well with Salesforce as well.
21) Cloud9 Sales Forecasting and Pipeline Management

A big drive to many CRM integrations is to be able to better understand & optimize the pipeline as well as be able to better forecast sales projections.  This is exactly what Cloud9 brings to the table, and it also allows you to integrate data from your other systems (ERP or outlook spreadsheets) so that you have a more global view of your sales & each individual opportunity.
22) Salesforce for Twitter and Facebook
We all know that "social" is important, but how do you scale up operations within your CRM?  Why not use public big data to help drive new sales— from tweets & comments on your facebook page, automatically create cases, contacts and leads & then follow-up intelligently to close more deals!
23) Bizible Marketing Analytics, Google AdWords Analytics, Campaign ROI, Lead Source
No need to rebuild the wheel each time you want to connect your external marketing data to your CRM.   With Bizible, you can integrate your most important online marketing channels such as AdWords, Bing Ads, Facebook & more, and analyze and make your next step marketing campaign decisions with more confidence!
This application brings together the best from your business's data, social networks & other public data to help you reach out to the right lead at the right time.  Track up to 1000 companies, view all coworker connections, build targeted lists with advanced filters & spend less time chasing leads & more time closing deals!
And finally, a TIP OF THE HAT TO CRAIG ELIAS, a truly outstanding client of ours, and someone we continually learn oodles from with every interaction.  Before Dreamforce this year, Craig wrote a kicker of an ebook called "5 Ways to Get More at DreamForce" and it's a must read for anyone in sales going to any conference!  He also mentions his go-to sales tool which I think are worth a quick mention here as well! Avention, Beep Directed Voicemail, BrightVerify, Charlie, Jigsaw, Evercontact, Fatstax, Insides Sales, Kitedesk, Nudge, Salesloft, Salescripter, Toutapp & more!
… as a wrap-up to the post,  what apps do you think should definitely make it on the next list like this? Leave your thoughts in the comments below!