Are you making the most of your email signature? And the email signatures that you receive everyday from all of your exchanges?
This post will cover how email signatures can be leveraged for stronger contact management and customer relationship management.  Below you will find sections of The Value of an Email Signature, What Does an Average Email Signature Look Like, A Solution to Automatically Update Contacts via Email Signature Analysis, How Evercontact's Service Works from a Technical Perspective and finally Evercontact's Specific Offers for Gmail, Outlook, Salesforce, Chrome and more.
The value of an email signature
The value of a signature is obvious, right?  It provides contact information to everyone you're exchanging with which clearly helps them stay in contact with you, and likewise for you with them.  This is no small matter as having your team and your clients' contact information is the lifeblood of your business.
But is that information easily accessible when you need it?
Is the data quality accurate, or are your phone numbers out-of-date, their company, email or role changed?
And more globally, an email signature can be so much more than just contact information as Marketing Land writes "the email signature is perhaps one of the most overlooked marketing opportunities out there". The sky is the limit and if your email signature feels a bit too basic for you, then you can add a bit of punch as you see here.
Whether your email packs punch or not, it's certain that not all email signatures are created equally and what you'll find within a particular signature depends on both personal choice and often corporate policy as well, because, of course, what is important for your company to have in YOUR email signature might not be so important to you, but might be very important to the company's end client.   It's interesting to see how each different constituency has different agendas when it comes to an email signature and the post mentioned in this link points out the 6 main constituencies that impact what your email signature looks like are:
The message recipient
The message sender
The company as a whole
The marketing department
The HR department
The legal department
So what does the average email signature look like?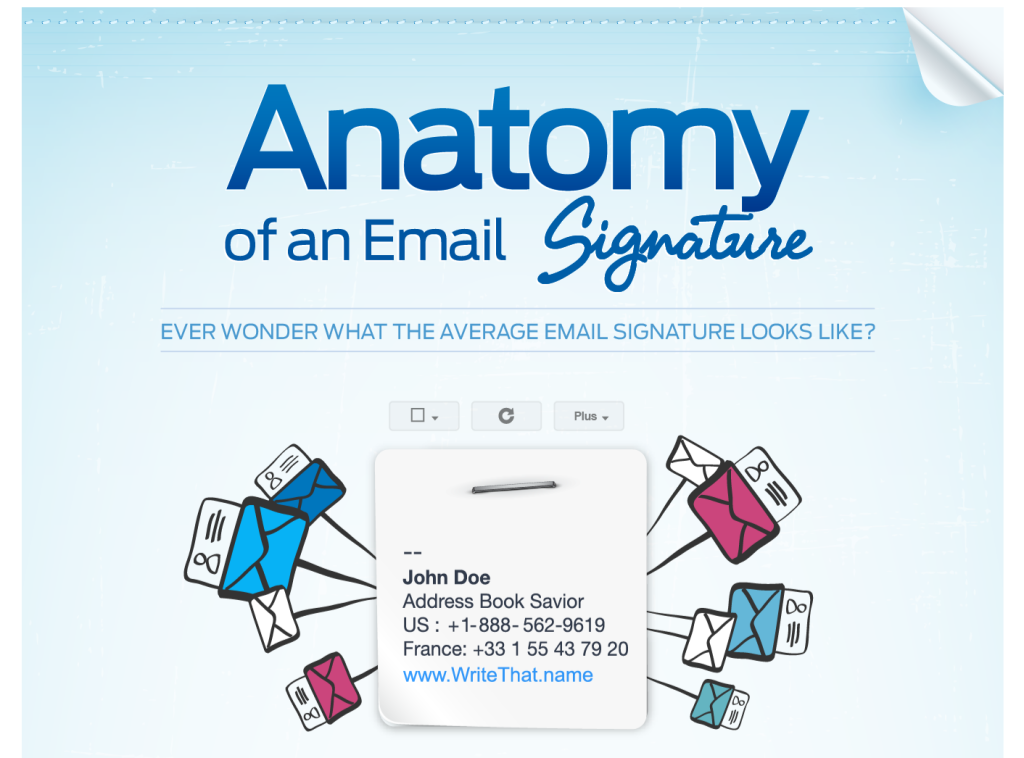 Last year, for our 2-year anniversary we released an infographic on the big data analysis of more than 700 Million emails. You might be surprised to learn that:
Only 52% of professional emails actually include an email signature.
70% include their name, 39% their email and 25% their cell phone,
Only 7% include a twitter link which tops the charts for social media
People were actually 40x more likely to include a fax number than a youtube link!
If there isn't a phone number, it's often a tip-off that it's a pure marketing email as 75% of people do add "real contact info" to their signatures.
So, email signatures vary widely, but at the end of the day, they are a source of valuable information for you, your contacts, and of course for your business!
A Solution to Automatically Update Contacts via Email Signature Analysis

So how do you take advantage of the contact info in all of those emails you receive?  This valuable contact data is sitting there for the taking, but probably only 1 out of 200 individuals actually copy and paste that information to update their address book/CRM. Many are simply content to search for that info when they need it, of course losing time in those daily searches, or losing that information altogether.
So that you (and anyone) can easily benefit from the value within an email signature, our SaaS, Evercontact can scan your incoming emails for email signatures and push any new or updated information to your address book (gmail/outlook) or your CRM.  This process is repeated every single day so that your address book or CRM are always up to date, as any changes to your contacts' information is recognized within their email signature.  As let's be honest, your most up to date information is not on Facebook, or even in your friends' or families' address books.  It's in your email signature, which is almost always the first place you'll change that contact information.
Since its creation in 2011, Evercontact has analyzed over 1 billion emails since, updating millions of contacts for our clients.  And they're happy as well as our gmail/google apps contact details extraction service is one of the highest rated on the google apps marketplace with over 500+ positive reviews.
So, how does Evercontact's service work from a technical perspective?
Magically. 🙂 And what do our clients have to do?  Nothing, and that's the beauty of it— Evercontact's entire service works in the background and here's the overall gist of how it does what it does:

And, for the curious, here's the slightly more technical version:
1) First a user provides Google permissions which allow our secure servers to analyze their incoming email for email signatures.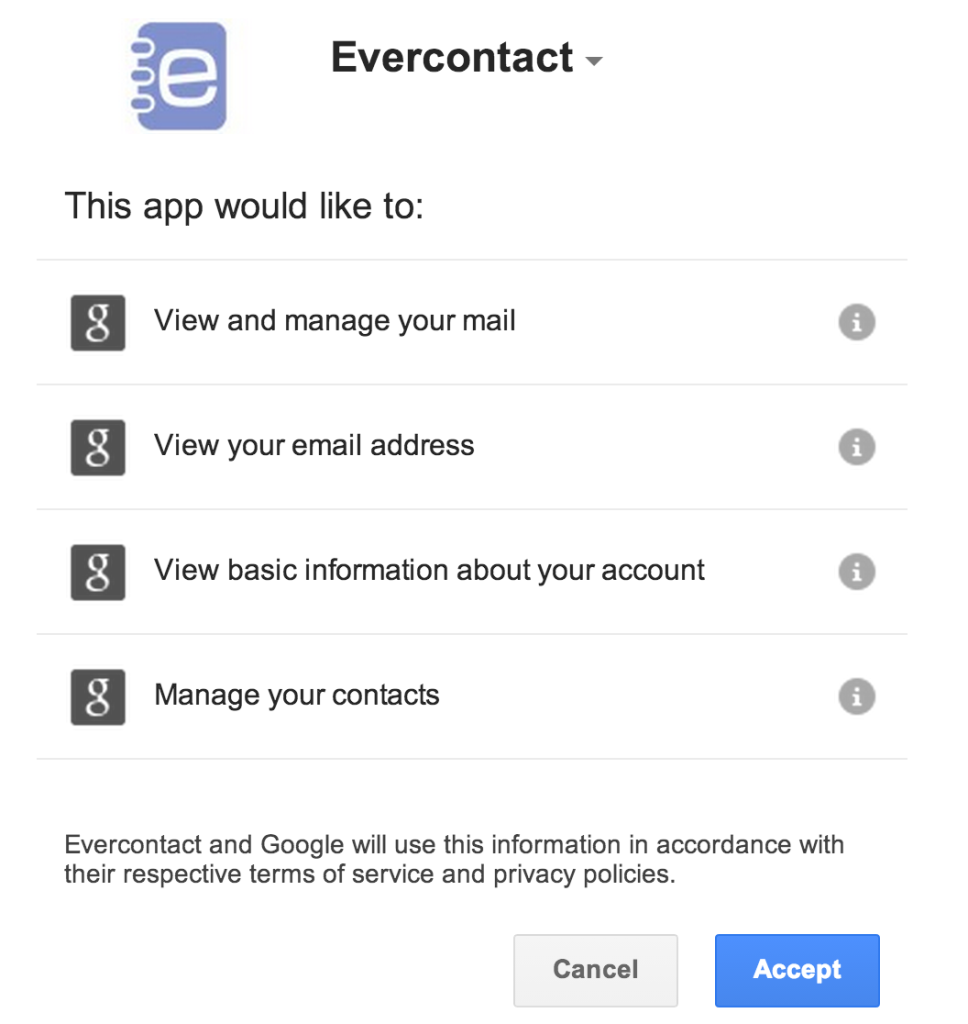 2) Our servers then "parse" their emails for the following information
a) the header (to/from/subject which helps us determine the sender and associate them with the email signature and also helps us verify that this is a "pertinent" contact for you – someone that you've exchanged with)
b) the body (almost all of which is instantly discarded by our servers as it has no value in updating your address book).
c) the email signature (and it's not as easy to find this among all the "noise" that an email can have.  Sometimes the email signature directly follows the email, sometimes it's at the bottom.  Sometimes it's within forwarded emails etc).
3) Our algorithms discard many emails as we realize that the new contact is not yet pertinent for you   By non-pertinent we mean newsletters, spam, someone you've never exchanged with before (see the next point for explanation). One specific rule we have is based on what we call "trusted sources" or someone that you exchange with and "trust". Basically, in order for a new contact to be updated to your address book, they need to be trusted, and it may happen in one of these ways:
a) You write them (they become a trusted source), they write you back (as a trusted source) = update (we analyze their signature).
b) They write you (not yet trusted), you write back (they become trusted), they write back (as a trusted source) = update.
c) They write you (not yet trusted), you write back (now trusted source) but they don't write back… = no update.
4) Then we analyze the information within the email signature   Is Bob Evans a company, or is it your contact's name?  How do you know that PO Box is a postal address, and how can you tell which company it's in, if it's not mentioned?  When do you know that it's talking about a twitter handle and not a skype address?   This is where the core competence of the Evercontact team comes into play.  We have 3 PhDs in Computational Linguistics at the helm and thanks to their expertise in Natural Language Processing, our software recognizes each separate piece of valuable information within an email signature for exactly what it is.   Evercontact can extract and update these attributes in your address book:
Contact First Name
Contact Last Name
Company Name
Company Role
Email
Work Telephone number
Home Telephone number
Mobile Telephone number
Fax Telephone number
Postal Address
LinkedIn
Twitter
Facebook
Youtube
Google+
Skype
So, NLP or semantics… what does that really mean?  It means understanding the text in a mechanical way via rules and algorithms so that it can be categorized and used effectively.   From a general Evercontact perspective, this means that our system correctly identifies information – ie a person's name and not a company's name, or that Ph:/M:/Tél,tel,landline all have a very specific meaning- and then pushes this information to the right place in your address book.  Here's a sneak peek at one of our hundreds of "graphs" that analyzes text to determine if, for example, a bit of information is a company name or a first name.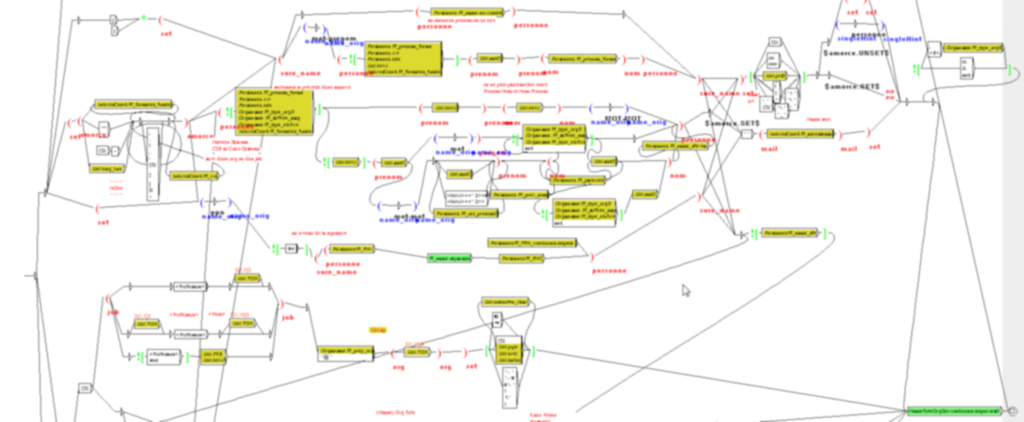 5) After determining the contact information, our system checks it against the current information in your address book or CRM.   And this is where the real challenge comes into place, and we've had to make strategic decisions to best serve our users:
1) Do we ever delete information that's already in an address book? We've chosen NOT to do so, but to add more information with a time stamp.  Ex:  if you've already put in a mobile phone number for a contact and we find a different one in their email signature, we will not replace the former one.  We will add the new one.  COMING SOON:  we're currently working on a simple way for you to "ask" your contacts which number is the most accurate.
2) Sometimes, we will modify information that is already there, especially for phone numbers and postal addresses.  Specifically, we "internationalize" this data so that if someone adds their phone number and we know that it's a number from the USA, we'll add a +1 to that phone number.  If we recognize that the contact is in France, we'll add a +33 to their number.  NB This is a preference that our users can change if they'd like so that numbers are or are not internationalized.  We do the same for postal addresses as well.
Specific Evercontact offers
And where does Evercontact currently update information for its clients?
For email address books: Gmail, Google Apps, Outlook
For CRMs: Salesforce, HighRise, and soon coming on Connectwise and Zoho.   Finally you can grab contact information anywhere online with our Chrome Extension (which can be saved to gmail, for any desktop address book (Mac Address book, Outlook, Thunderbird etc…)
We also have two additional services that are especially beneficial to our clients for both quickly adding new contacts from past exchanges, and also making sure your contacts have YOUR info.  The first is called Flashback, and it scans your email history 1 to 5 years back to update your address book overnight.  An average 1-year flashback scans over 12,000 emails and updates 200 contacts.  See more stats here.
The second service is called Addme which allows you to spread YOUR contact details more efficiently to all of the people you're emailing.  By simply pasting your email signature into our interface, we detect your own contact details and provide you with a personalized AddMe link that you then add to your email signature and anyone you email can then grab your contact info in 1-click.
Try any of Evercontact's services for free for one month (sign-up below) and should you have any questions, feel free to reach out to us here.