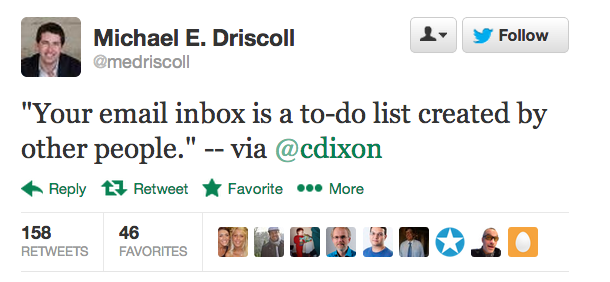 If your inbox is a to-do list created by others, should you use it as such?
Poll on about.com's email column: "Do you use your Inbox as your to do list?"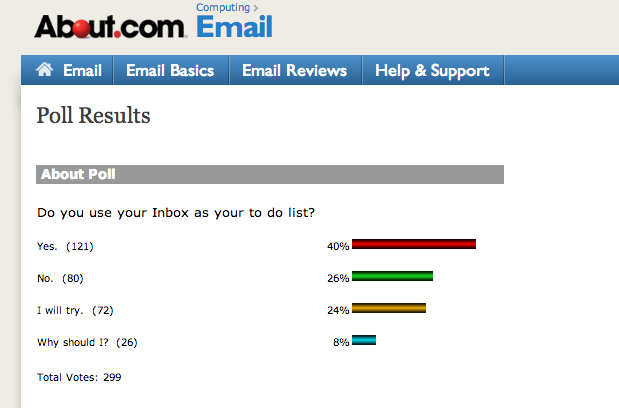 Why you shouldn't make email your to-do list
Why your email is not a good to-do list
From the productivity masters at ZenHabits, comes a reaction to the NY Times journalist David Pogue's mention of his using his inbox as a to-do list (like the two how-to in the next section below, David uses folders, rules and a personalized system to process email).  ZenHabits main points against using an inbox as a to-do list are:
1. You can't change the subject lines.
2. There might be multiple actions in each email.
3. You can't prioritize your to-dos
4. An email inbox contains distractions
My thoughts: You can prioritize with folders, but yes you can't change the "names" of emails, and I agree that #4 is very true which is why I pause my inbox (my tip # 2 here).  However, I dont know if I'd gain time by externalizing a majority of my actions to an external to-do list (as the article's solution is to : "choose a simple to-do list and as you process your email inbox, pull out the actions to the to-do list").  Any mirco-actions are best handled immediately and quickly within their original environment.

PCMag's stellar "Get organized" column via Jill Duffy says these 5 reasons make email a bad to-do list:
1. No control over incoming items
2. Ill-named tasks
3. Too long
4. Lack of tools for prioritizing and setting deadlines
5. Prevents your email from being email
My thoughts: Not much we can do about point 1, and 2,3 are slight pain points and with "larger projects" or more complicated on-going tasks, I do externalize these to another platform.  For #4, the 2 systems mentioned below in the how-to handle this quite effectively.


How to effectively make email your to-do list
"Isn't it bad to use email as a to-do list?   We all do it. Stop feeling guilty about that. Embrace it."

This is a great article about processing email and starring anything that takes more than 30 seconds to reply (and then processing the stars later).  This is exactly how I use email, and yes, it is a to-do list in a sense.
How To Turn Your Email Into The Ultimate To-Do List

This system of specifying folders and rules works well for the author.  The key is having a system that processes quickly (and my habits are here), and I see the value in this approach, though I'm more aligned with the system mentioned in the first article.
Reality
Email is a tool, but, despite common wisdom, it is most certainly not the same tool for all of us.  Imagine how a journalist, sales rep, community organizer and CEO are using email differently.
That being said, Chris Dixon is right: "Your email inbox is a to-do list created by other people" and the challenge is prioritizing what to do and when to do it.  This requires a well-thought out system tailored to your email activity, that allows you to process and act quickly.
Should you externalize your email actions to a to-do list is a question only you have the answer to.  
I don't, but if I did, I'd be trying out producteev, wunderlist or evernote as I continue to hear great things about them… and as a cherry on top, it's possible that the exciting new mailbox app will finally bring me back to processing email on my smartphone (which I've shunned for awhile now as I simply don't find it efficient).
So, what works for YOU?