Photo graciously provided by Photoshop 😉
Happy September to everyone! We've been enjoying the holidays basking in the sun and also in the glow of winning several start-up pitch competitions including the World Cup Tech Enterprise Software Category in Silicon Valley and La French Touch Conference in New York 🙂  But now, back to work! And that includes sharing our founder's tips on how to pitch your startup … or anything else really.
Why You Need to Learn How to Pitch
Pitching can be a major problem for geeks and techies in general, who may be brilliant at almost everything apart from public speaking and schmoozing. That was certainly the case for our founder Philippe Laval, who is more comfortable writing code and developing startups than selling them.
But he realized, as most of you probably do, that no matter how interesting your product or how great your founding team, you've got to be able to explain it, and sell it to potentially wary investors, quickly and simply. And at the same time stand out from the crowd of other startups looking for attention.
Imagine having to learn how to do all that, and in a foreign language, which English is for our French founder! But, rather than being discouraged, Philippe put all the enthusiasm he usually uses to develop new products to learn how to pitch properly. And, as you can see from the results, it worked!
How did he learn how to pitch? Let's find out!
Of course, Philippe had the benefit of participating in the UBI i/o immersion program, which provided mentoring for French startups to help them intensify their activity in the US. Part of that program was coaching for pitches and smaller contests so that program participants could immediately test and improve their pitching skills.
So since the majority of you out there won't have the chance for an intensive program to improve your pitching, we asked him to boil down his best tips for how to go from a pitching summy to a superstar, quickly!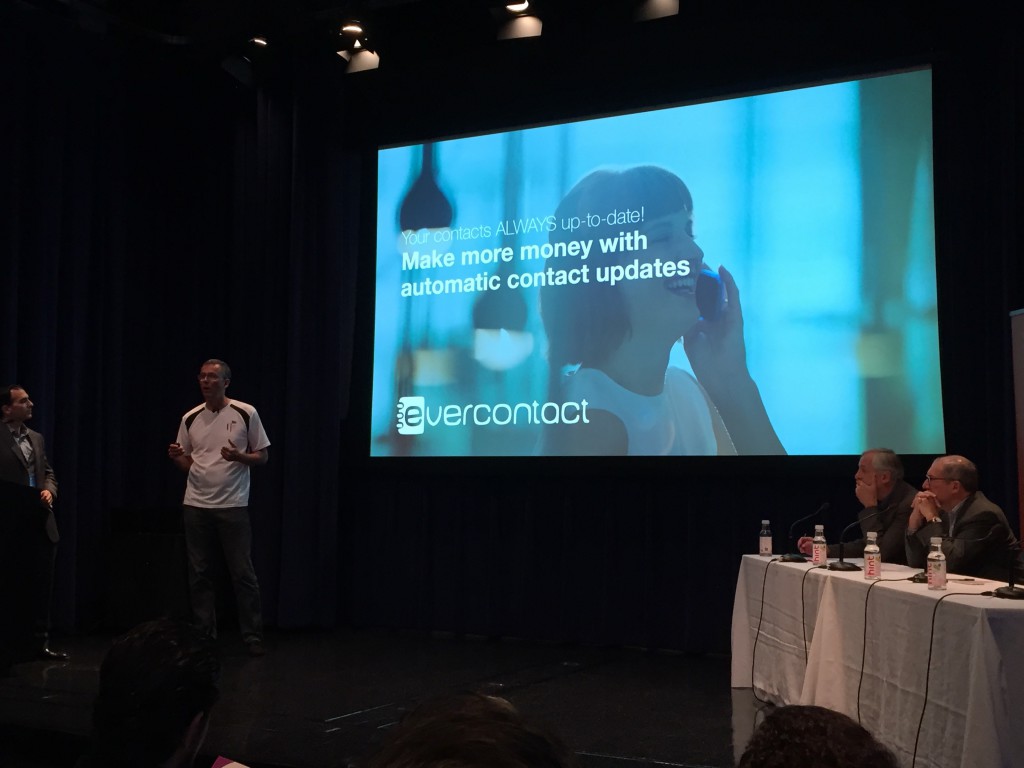 Philippe Pitching at World Cup Tech
Philippe, Evercontact won or placed in so many contests lately, is pitching something that you are naturally good at?
Absolutely not, in fact at contests at the beginning of the UBI/IO program, I ranked very low! I had participated in a great Seedcamp program in 2009 where I managed to win some competitions as a result of their coaching.

But at that point, Evercontact was still in the test stages and we didn't yet have a real product to pitch. Everything changes when you have a real company, so you have to learn almost from scratch how to sell it.

By the time participation in this UBI/IO program came around, we had a real service with thousands of clients. I had done pitching for it, but only in France, where I am more comfortable not just with the language but the very different business culture.
But surely pitching is the same in every country?
Not at all, there are a couple of major differences between what a French potential investor or partner wants to hear vs his US counterpart.

For example, a French audience wants to hear a longer (20-30 minute) pitch with lots of back and forth in it. They are also more interested in longer term numbers and a very detailed, and again longer, business plan.

In the US there is a shorter attention span with more competition for startups and more impatience with niceties, they want you to get straight to the point. The pitches are limited, from 1-5 minutes, and they want to hear about your ambitions, the strength of your team, and being precise about your strategy to become a huge company.

So they really want all of the information that a French audience does and more, but in a much shorter time span. Each major point needs to be contained in a single slide, and the number of slides is also limited.

So it's overall much more intense and practicing your pitch becomes even more important.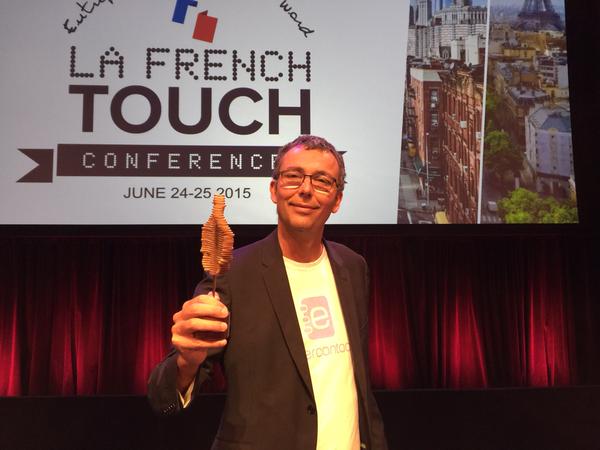 La French Touch Awards in New York
So your first pitches didn't go so well 🙁 Tell us what happened!
No, unfortunately not. The first event was a training pitch for PitchForce (Runway Incubator) in San Francisco and I came in dead last!

I arrived with a 5 minute pitch, feeling relatively confident, but it was clear from the beginning I wasn't doing well. I didn't realize that I was meant to be talking about for the actual business investment fundamentals vs. more of a standard marketing sell.

I was running in last place so I decided to change the pitch on the fly, which didn't work out so well, for two reasons. (1) I hadn't practiced a business pitch and (2) My pitch was totally off from the slides that I had prepared.

One judge even said that he had seen over 900 pitches and mine won first place, for the incredible lack of correlation between my words and my slides!
That must have been really tough, how did you break out of your rut?
I was lucky as the judge, Paul Weiss, Chairman of the Board at Accomplice.IO, was generous enough to give me tips on what to include in my pitch the next time.

Also, I kept in mind there was one thing I was not bad at naturally, the Q&A part of the pitches. Once it went to back and forth I felt a lot more comfortable. It was the presentation part I needed to improve most, so I figured that, like anything else, it could be learned with enough effort.

So I worked on my slides and pitch and 2 weeks later, we went back to try again.

Paul was back as a judge and extremely happy that I actually listened to his advice. This time I came in 3rd place, much better!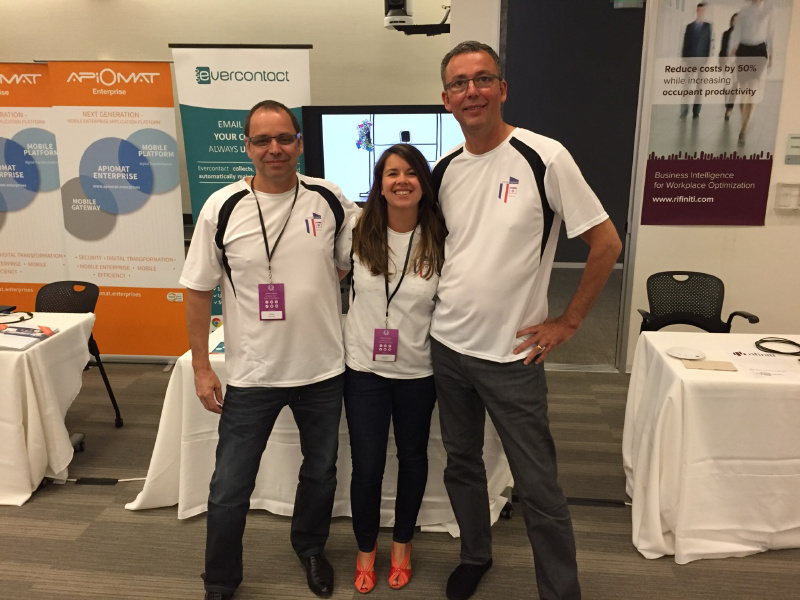 Team Evercontact at World Cup Tech
What did he advise you to include?
Paul was very precise about what needs to be in a good pitch:

1. Start with a story to draw in your audience. I had the chance of the founding of the Evercontact idea being related to a personal love story so I used it

2. Move to the problem you are trying to solve. Ours is obviously the difficulty for busy professionals to maintain their all-important contact lists without missing people or important information like the latest phone number.

3. Then, talk about your core customers. In our case, we already have thousands of users from all sorts of professional fields including bigger names like Flipboard and Disney so this was easy.

4. Next, demonstrate some proof of success. Besides the user base I already mentioned, we have testimonials from evangelisers like Robert Scoble.To make sure you stand out from the crowd, talk about what is different with your product. In our case, it was the total automation for ease of use, the reliability of email signatures as the best source of true information, and our algorhytym which provides 100% accuracy.

5. After that, present key members of your team with great track records to show that you are serious. We have directors who were previously key players at Gawker Media, Thales and Sinequa, as well as backing from the investment team at AXA Strategic Ventures

6. Numbers to show traction come next, this is easy for us as we have analyzed over 1 billion signatures for over 100,000 accounts.

7. And last, but definitely not least, tell them why we need their money and what's in it for them if we get it! In our case, we have lots of exciting development plans that will allow us to grow our user base by providing even better service.

Did that fix your problems right off the bat?
It was a great start, but I still needed to learn how to present the basic ideas more comfortably. I practiced with the great UBI/IO coaches Page Alloo and Laura Elmore intensely, and also tried out my pitch with every single person (or empty room) that I could, even with my children on the phone!

And of course, the live competitions helped me hone my skills in a real environment. Over the 10 weeks I participated not only in the aforementioned Startup PItch Night (Runway Incubator), and the actual PitchForce Event (also Runway Incubator), but also the Worldcup Tech Challenge, the French Tech Hub Pitch Night, the French Mafia Pitch and the VC TaskForce.

Slowly but surely, I got more comfortable both with English and with delivering my pitch to different types of real and imaginary audiences.
Winning Pitch at La French Touch Awards
So you felt really confident going into the World Cup Tech competition?
I wouldn't say that I was totally prepared, so I was really lucky that Adiba from the Silicon Valley Forum provided pitch training to the companies selected to participate. Then we had live training the day before to try to recreate the actual competition and anticipate all of its challenges.
It was good to know that the worst moment is always before you pitch. So you will always feel better when your presentation is done, as long as you keep in mind that just practicing in a real competition is something you have achieved, that can only make your end result even better.
After we won our World Tech Cup Category, we won (almost) all of the remaining competitions, including the Silicon Valley Angel Pitch??, and then La French Touch in New York.
OK, you have already shared what elements you need to have in a pitch, now tell us your top tips to get good at it.
Sure, I am happy to share what I learned, as long as you can guarantee that any potential competitors aren't reading this. 😉

Just joking of course, here is what everyone can do to even the playing field, in one word, PRACTICE!

* In front of the mirror

* In front of other people, even if they have nothing to do with your business

* Without cheating by looking at your computer or slides or notes

* On the telephone

* With Americans especially in the case of a foreigner like me

* At every pitch event you can attend, don't worry if you lose at first, look at every pitch as a training to get better.

* To give a great pitch in 5 minutes

* To condense it down to 1 minute

* With the main points you want to make in mind

* By asking your "test" judges to ask you questions, and trying to answer credibly by bringing your answer back to your main points

* To remain helpful and never get defensive

And, always, to keep it short!
Anything else to add for pitch-shy people?
Yes, pitching isn't something that has to come naturally for you to get good at it! So do not worry if you are shy, fumble for words or freeze up in front of a crowd. Just keep practicing it to develop your skills like you would for anything else and you can get better. You may even start to enjoy it!
Thanks Philippe and readers, hope you all enjoyed the summer and are ready to get back into action with your own pitches 🙂
If you have any feedback or other tips to share, feel free to add them in the comments below!