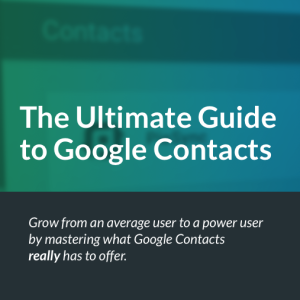 A lot of people are using Google Contacts but are not getting the most out of it at all. That's why PieSync, which connects all professional B2B cloud apps and offers seamless two-way sync between them, decided to take matters into their expert hands: They wrote an e-book called "The Ultimate Guide to Google Contacts". Its purpose is to show you what Google Contacts really has to offer, so you can grow from an average user to a power user.

The e-book covers everything from using Google Contacts with other applications including CRMs, using it on your mobile device, and even a chapter on Evercontact's specialty, keeping your contact list clean 🙂  Advice for that is below, and if you want the full story on Google Contacts, you can download the free e-book here.

1 Merging contacts
Do you also have the same person twice, thrice or even more in your Google Contacts list? Once with their phone number, once with their work email, another time with their personal email or with their nickname instead of their full name,…
The best thing to do then is merge them together so you have one contact with all the information you have on that person. You can choose to do this manually by selecting the duplicates, but you can also let Google check for duplicates for you.
Go to contacts.google.com, click "More" and then "Find & merge duplicates". You can still check the results and choose which ones to merge.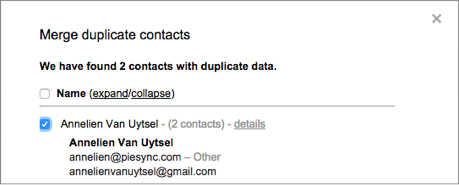 The merge function actually got improved in the new Google Contacts. A preview and the changes are also included in the e-book.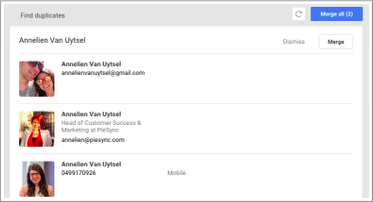 You don't even have to pay a lot of attention, because if you accidentally merged two different contacts together, there's still Google's restore function.
2 Restoring contacts
Under the same 'More' button you'll find 'Restore contacts'. There you can select a time between 10 minutes and a month ago to restore your contact list to. This will recover your deleted contacts and separate the contacts you've merged between that time and now.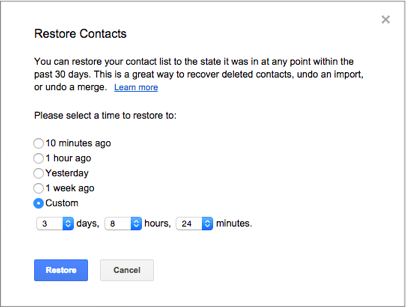 And if you wrongly restored your contact list, you still have a few seconds to click the "Undo" button at the top.
3 Sharing Contacts
Most people are not working alone. In fact a lot of people are working with a lot of people. When it comes to contacts, this means two things: you want to be able to access the contact details of your co-workers, and you might want to access the contact details of your coworkers' contacts.
Sharing contact details between coworkers
Google has their own solution for the first one: Google Apps has a Directory that stores all contact data of the people in your company. That's why Google can auto-complete the email address of your colleagues, even if you've never emailed them before.
If you're using Google Apps, you'll find 'Directory' on the left-hand side of your contact list, just below 'Other Contacts'. The system administrator controls which email addresses appear there.
If you work in a team you often need access to the same contacts. The same goes for when you're in a relationship. Whether you want to share your contacts with the sales team, your secretary or your hubby, PieSync can help. You can choose to sync all your contacts or just a subset of them, either one-way or two-way. Connections can consist out of your CRM, marketing apps or multiple Google accounts. Thanks to this e-book you can get a 50% discount for three months. Download it here to find out how to enjoy this offer right now.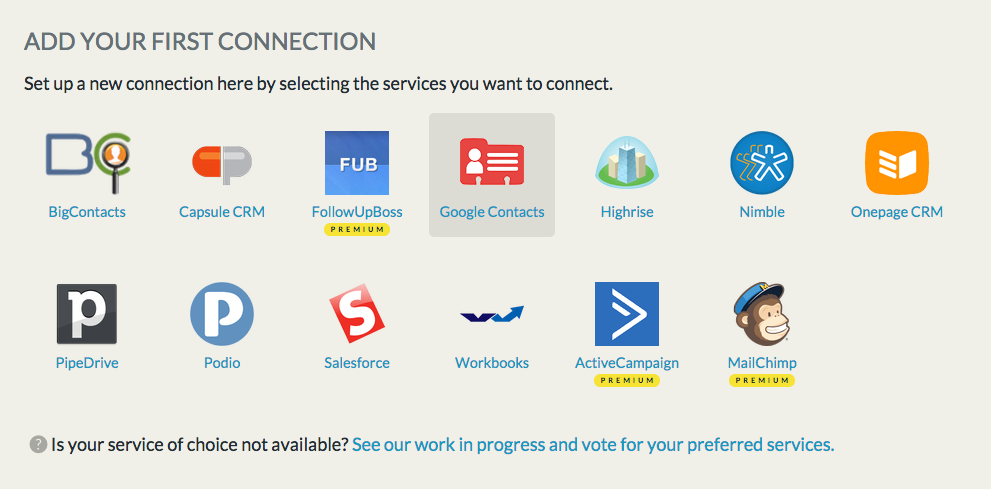 4 Google Contacts & Email Signatures
…you knew it was coming 😉 
Evercontact is a great tool for freeing you from the tedious copying and pasting that often comes with having an up-to-date address book. Their service automatically analyzes email signatures in your incoming emails and captures and saves this contact info directly into your current address book.
This means Evercontact can fetch the address, phone number,.. out of the signature and add it to the contact in Google Contacts. If you combine this with PieSync to sync Google Contacts with your CRM or marketing app, you will always have complete and updated contact information, everywhere.
This was just a glimpse from the second chapter, How to keep your contact list nice and clean. 'The Ultimate Guide to Google Contacts' goes further, starting with explaining what exactly Google Contacts is and what you should know about it. The third chapter explains the integration with other applications so you'll finally find out how other apps know so much about you and how you can stop it. Chapter 4 shows how to get your contacts on your mobile device and then they give you a sneak peak of the new & improved Google Contacts.
Interested in reading more? Download the entire free e-book here:


Thanks PieSync for the helpful guide! If you have any questions or comments for them or Evercontact, feel free to share your thoughts below!