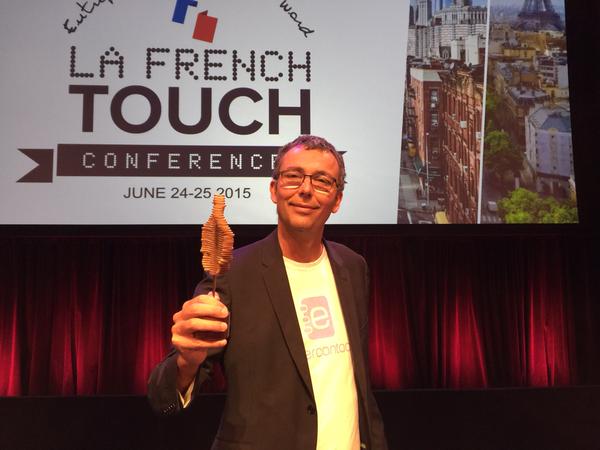 Evercontact is honored to announce that we have been selected to participate in the French Tech Start-up Showcase and Contest at La French Touch Conference, June 24-25th at the AXA Center in New York.
We are among the 8 featured French startups who are making waves in the US. And as you may be aware, Evercontact is no stranger to contests recently, so we are primed and ready for action!
But what is La French Touch? Could being French really be an asset vs a liability in the US market?
Entrepreneur… a French Word and Tradition
How did you read this word? With your brain in "English mode"? Or maybe thinking about your French great uncle who kept throwing random french words at everyone to impress them. They may not have meant a thing, but it was still impressive:  Crevettes grillés! C'est chèr, mon frère! Bien sure!
You get the point. Entrepreneur is in fact a french word, and entrepreneurship is a French tradition.
Scientific invention is of course is not new to France. Did you know that "photography" also comes from the French invented "photographie"? And that the first motion picture camera and first projector was made by Louis Le Prince, a Frenchman who worked in the United Kingdom and the United States. There are so many French technological inventions it would take hundreds of blog posts to cover them. Note you will never find the famous French fries on those lists, as they are actually from Belgium 🙂
And, as Forbes correctly notes, France is absolutely full of start-ups and small businesses: "It's just that building big name international companies has traditionally never been their strongest point. French startups, for the most part, been content to stay local and enjoy success at that level."
But not always … you can see that on Thomson Reuter's top 100 Global Innovators list, 7 of the top companies are French, not bad for a country with less than 1% of the world's population!
Evercontact has of course already demonstrated our adaptability for the US market, with over 80% of our clients based there.

La French Touch Conference
To feature this innovation by French startups and help them with expansion to the US market, La French Touch conference is heading to the AXA center in NY today and tomorrow for its 2nd edition.
The conference will be in two parts July 24th and 25th, both days full of inspirational speakers and presentations by startups and startup specialists, the full program is here.

And on June 25th, it's contest time! 7 other fantastique French startups have been selected for the competition. Ranging from the arts to mobiles to team meetings, they cover all facets of the digital revolution.
Fluidity: Fluidity takes on the well-known challenge of team meetings : collecting ideas (brainstorming is anonymous on Fluidity, eliminating the shame factor!), then you can score the ideas based on your criteria and get a best ideas ranking. Some great companies like Nestle, Delaware Consulting, Carrefour have already started to see the benefits of Fluidity and have been more productive ever since.
UniqueSound allows companies to find music composers to add music to their advertisements and videos… by looking through portfolios put online by a wide variety of skillful DJs. You can also search by specific categories to find the perfect sound for your campaign.
Curioos is dedicated to the online world of art. You can look for the best paintings and photo from all the great artists, by collection or category… Much better categorized than the typical art gallery.  Plus, there is no VIP-only room, as everyone is a VIP!
Glose is a magical place to find great reads and exchange thoughts on books. You can choose from a variety of books, free or paid. You can also get closer to the author and bring the book to life by seeing the authors' annotations, as well as connect with other readers and share notes.
Artlist: The headline could not be more clear : Buy and sell fine art. The best thing is that this is totally confidential, so no one needs to know about the big profits (or big expenses) of your hobby.
Clippcity allows you to not just visit a town but get to know it by looking through various anecdotes. First seen as a touchscreen under the bus shelters in Paris , Clippcity will soon launch a beta Web page that will allow you to access anecdotes and other aspects specific to your location using the geocalisation on your phone.
OnOff is a revolutionary application that allows you to have several numbers on one phone. It can be used with any regular smartphone or SIM card. Extremely handy for those with multiple phone numbers, a mind-blowing video explaining the service is here.
Evercontact: Last but not least 😉 Evercontact will update your address book automatically so that you never have to worry about copy/pasting and outdated or missing contact information ever again. Compatible with Gmail, Outlook, Salesforce and more!

So as you can see, US friends and clients, France is not lacking in ideas or spirit and is more than ready to prove we can provide more than just fine food and wine!
Wish us luck, or rather bon courage!:-)