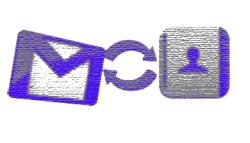 According to TechCrunch, Google has made it even easier to sync your contacts with your iOS device.  I've used Google Sync before and this does seem just a tad bit easier, so if you haven't tried it yet, maybe now's the right time (and of course, WriteThatname will continue to keep all of these details up-to-date for you, which is a nice bonus, eh!).
Full instructions here, but otherwise it's as simple as:
Open the Settings application on your device.
Select Mail, Contacts, Calendars.
Select Add Account…
Select Other
Select Add CardDAV Account
Fill out your account information in the following fields:Select Next at the top of your screen.

-Server: Enter "google.com"
-User Name: Enter your full Google Account or Google Apps email address.
-Password: Your Google Account or Google Apps password. (If you've enabled 2 Step verification, you'll need to generate and enter an application specific password.)
-Description: Enter a description of the account (e.g. Personal Contacts).

Make sure that the "Contacts" option is turned to ON.
NB:  Syncing via CardDAV is only available over SSL1 for Apple devices on iOS version 5.0 and above. If you use Google Apps for Business, use Google Sync to sync your contacts.
Let me know if you give it a try and how it works for you… also, whenever doing these kinds of sync, it's a good idea to back up your data on both ends and do a "merge" with google contacts before so you avoid duplicates.