On December 9th, nearly 100 Kima Startups got together for a day of pitching, networking and impressive talks from the CEO of Vente Privée, Jacques-Antoine Granjon, Jeff Clavier, Managing Partner at SoftTech VC, Julien Codorniou, Head of Partnerships for Facebook Europe and a recent Facebook acquisition, Parse, whose CEO, Ilya Sukar spoke to the core of their customer acquisition strategies.
Ilya spoke about Parse – a cloud app platform for mobile applications- and their success story despite the rather large challenge of getting developers' attention – not at all easy – as they pushed their product to market.   They focused on content marketing to drive traffic/ visibility / community and it worked very well as they are experts in their domain and had a lot to say (and a product that marched to that tune).
With this in mind, I reached out to a number of Kima Startups present that day to learn more about their own Customer Acquisition hacks and here's what they had to say.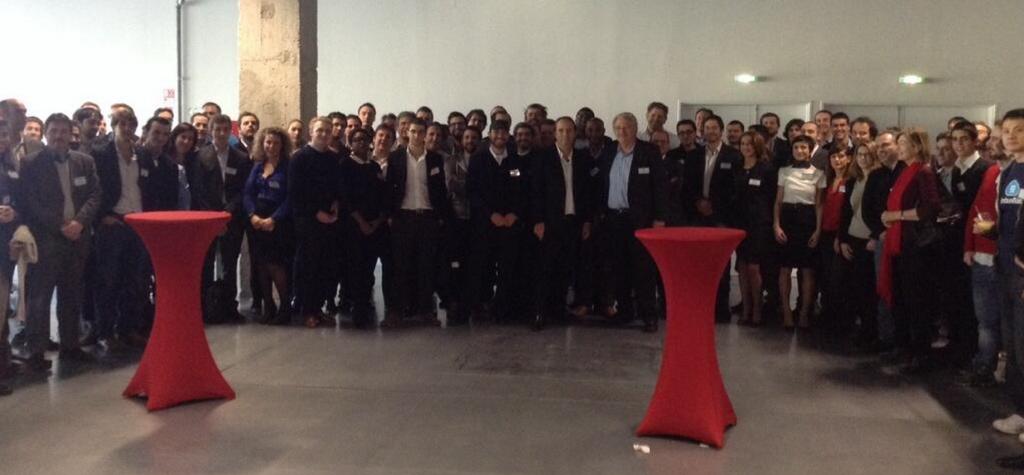 The family with Jeremie and Xavier @ center.  Photo courtesy of Florent de Kersauson

Leetchi focuses both on and offline traffic
"Our tactics to generate traffic have evolved since we launched the service back in 2009. As we grew up and raised money, we were able to test new online and offline channels. To put things into perspective, Leetchi.com was the first service to easily collect and manage money from a group. We had to explain and evangelize the concept, first targeting web opinion leaders and then a broader target.  From there, here are the three marketing tools that drove and still drive us significant and highly qualified traffic.
Social platforms We have been social media friendly from the beginning and we emphasize the viral DNA of our service through it. In addition to classic email sharing option, we add Facebook and Twitter which was powerful tools to drive incremental free visits.  We allowed users to share their pools on Facebook both via private message or walls and on their Twitter profile. Moreover we implemented the Facebook connect and soon the Google Sign-in to get more CRM data that help us to drive traffic through email marketing.
Be careful with social API and policies ! They are evolving quickly and a killer feature of your service could be killed / broke by those social giants.
PR
PR was a powerful way to get cheap traffic from ON and OFFline medias. We handle it internally in our native country France but  are working with local agencies for new markets as it's difficult to get local contacts. When you build a disruptive service, you provide superior content to medias so that you will more likely to be published. Don't hesitate to provide data, metrics that will support your story-telling and add a creative package around your message.
TV ads
TV is still a very powerful channel to reach a broad audience. It depends of your offer and creative marketing but we saw that the drive to web rate was quite high and brought us a large amount of high value traffic. You must analyse the ROI of each ad and don't hesitate to be granular in your reporting. It takes time but you will be able to optimize your TV campaigns just as your online campaigns.  Keep an eye on your online spending, such as SEM, retargeting and display because it will surge quickly… if your campaign is successful!"
-Benjamin Bianchet, CMO

AmigoCAT focus on product, product, product and early adopters
"PR and partnerships with user communities work great, but to me the best strategy is to have a great, innovative and daring product. The promise of that product attracts beta testers. The key then is to open your application to a very limited number of testers, usually a maximum of thirty. Monitor what they are doing with Clicktale or equivalent, then build a relationship with every one of them. And I mean every one. Talk to each of your users for ten to fifteen minutes every day. Use their feedback to improve your product. After a month, open your application to thirty more. Rinse and repeat.
If you do your job right, these 200-500 first adopters will become your evangelists. It's easier for free applications like amigoCAT, where competitors have clunky and expensive products, but that logic works for every product, in every market." -Nicolas Gregoire, CEO

The trick for iAdvize – High Quality Content & Thought Leadership
"When iAdvize launched its live chat solution three and half years ago, the company quickly recruited someone to increase brand visibility, website traffic and generate leads. Since then, Maxime Baumard, head of communication and Julien Hervouët, CEO, have constructed the iAdvize communication strategy around two main axes, convinced that if you want to increase website traffic, you need to provide quality content.
The first is based on telling customer success stories. Positive feedback from clients is the best kind of communication as it builds brand credibility and is based on concrete examples of how the solution has increased sales or improved customer satisfaction. By asking clients to share their experience, iAdvize has produced case studies, interviews and video testimonials.
Secondly, iAdvize has positioned itself as a real-time online customer service expert in France by producing not only case studies but also sectoral studies and white papers based on surveys and research. By sharing this expertise on blogs and at conferences, iAdvize has increased its visibility and developed a reputation as a source of quality content. Furthermore, iAdvize shares the content it produces via different social media including Twitter and LinkedIn. From the beginning, the company decided to manage press relations internally, convinced and since proven, that in the B2B sector, it is more strategic to develop direct relationships with journalists." -Miranda Hobbs, Communications Officer
Lengow, "One of Kima's great success stories!" says Jeremie
#kimaday @jberrebi interviews @nenadcetkovic about the success of @lengow pic.twitter.com/xvnglgiRjV

— Alex. Delivet (@alexd) December 9, 2013
What's interesting about Lengow in comparison to so many other e-commerce, SaaS startups is that they haven't focused as much on inbound marketing, content creation and social media as they've had so much success with their sales operation.  Nenad said that  "sales is a full time job that needs to be managed very actively every day" and that they had been very rigorous with their CRM (Nutshell), training, motivating and empowering a full-time sales organization, and of course, analytics— setting up and managing KPIs.
http://t.co/fb1Z0RLJkI #KimaDay Nenad the man presenting pic.twitter.com/E2ZBI9TSjQ

— Rodrigo SEPÚLVEDA (@rodrigo) December 9, 2013
During their conversation, it was clear that Lengow had a very strong, unique product that quickly demonstrates ROI which enabled them to scale up a strong sales-oriented organization reaching 80% of the top 100 French companies, 2700 clients and an annual revenue of 4M€
 
 

Paper.li = user-centered, partnerships and be a champion!
"Exponential growth is every founding team's dream and the ticket to securing the funding and top talent. While there are numerous tactics to experiment with, here are three that continue to deliver for us at Paper.li
1. Putting users in the center of the messaging

The best ways to get people talking about you is to make the message about them. This is the path we followed when we introduced the "daily is out" promotional tweet.
While brand association to the Paper.li brand is strong, we are the messenger but not the message. The promo-tweet shines the spotlight on the publisher and their passions and the link leads readers to the publishers paper. Paper.li remains in the background throughout the promotion.
2. Co-branding partnerships

Identify companies and services that serve a common audience and strike up working relationships and partnerships early. If you don't think you're ready to accommodate a surge of substantial new users then begin with marketing cooperation that will provide co-creation and guest blogging opportunities. This helps increase reach and drive traffic at a slower but very steady pace.
If you are at a point where you can sustain a jolt of new users look into app integrations that don't require a lot of development or resources for integration, but will add value to your user base while opening the doors to an entire new community of users.
3. Brand champions

When we think about marketing we often think about the few key "influencers" are that we hope will latch onto our message, discover our brand and share the love. Although it's sweet to get a Tweet from so called influencers, they probably aren't the people long term who are going to carry your message long-term. But your brand champions will.
Brand champions are easy to identify. They're the people who are already in contact with you asking questions, expression passionate job, giving feedback and even critiquing your product. Establish a relationship with them as quickly as then take time to get to know them. Educate them about your brand and empower them to speak about your products.
At Paper.li we consider our champions as extended team members and we are happy to exchange promotion of their business for promotion of Paper.li. It's a win-win tactic: they are key in spearheading communication around new products and enhancements and in return for spreading the good about us, we're happy to promote their business with the community at large."
– Kelly Hungerford, Head of Marketing and Communications

Multiple Platforms, PR, Resellers and Unique content
Our own product, Evercontact, has been scaling up for two years now and here's what we've found works best for our address book auto-enricher
Multiple Plaforms
Our first MVP was on gmail, and we quickly opened up to google apps as well. We imitated Evernote's distribution hack which was to be present on as many marketplaces as possible and as soon as they opened up. 540 positive Google apps reviews later, we've moved onto the App Exchange, chrome marketplace, Mashape for our API, Appsumo, Stacksocial, download.com and softonic, Otherinbox and 20 other smaller marketplaces as well. If you're getting started with this approach, definitely check out this post from Lincoln Murphy.
PR and resellers
PR probably accounts for over 30% of our customer acquisition… and everyone knows that getting an article on TechCrunch can be huge, but then again, after your original product launch, it's not always easy to keep a PR campaign going. We've had great success through personal reach-outs to journalists (tips here from Erica Swallow) and our PR firm, StoriesOut does a wonderful job lauching all of our PR campaigns moving as well.
Our resellers account for over 20% of our revenue, so developing that network and increasingly engaging them has been very impactful.
Unique Content
Finally, developing and distributing unique content (like this post!) has been key to our customer acquisition strategy. This blog drives over 2000 visits every month, and most of that is through search, so it's new potential clients reading up on "how to clean up your iphone contacts", a webinar to get to inbox zero, an infographic on what's in the average email signature and another 100 articles on this blog. The infographic alone was featured in over 20 well-known sites such as marketingland, forbes, socialmedia2day, sociallystacked, visualy, hongkiat, business2community and more.

Content creation and pollination of news from Sidekick!
"Side-Kick is a game developer and publisher. While today we focus on the creation of internally owned IP portfolio (read: self-owned games), we started as a work-for-hire studio.
As original IP game developers, we know that content comes first. That is why we have invested in the creation of news articles, post mortems and presentations about the company, to drive awareness and eventually traffic to our site.
It was important for us to locate the relevant sites or venues, where we will be in front of the most relevant audience for us, so sites like Gamasutra were critical to be featured on. As we diverse our business we were looking to be featured on other sites and magazines. As an example, we hire mainly from Israel, where our studio is located, so being featured on mainstream local newspapers works great in bringing new talent (and even investors' inquires) to us." -Guy Bendov, CEO

HeyCrowd – Optimize App Store search and discovery.  Build backlinks
"The hack that has worked well for us to get more downloads for HeyCrowd iOS app was optimizing for search on the App Store. The App Store is still the center of app discovery and unless you're in the top 25 of a given ranking, it's hard to get noticed. So, we asked our users how they discovered us and as HeyCrowd is a social polling app where users answer hundreds of questions, asking them how they found out about the app was easy!
Then, we contacted those users who discovered us by searching on the App Store, and asked them what keywords they searched for specifically. It allowed us to fine-tune our app store description to target specific terms and grow our download metrics.
For our website where we have a more professional online survey tool, SEO wasn't easy at the beginning. What helped over time was to get featured on websites with good domain authority (a news site or popular forum) thus getting a nice SEO boost via backlinks from them." Emmanuel Bellity, CEO.

1001 Menus – Old School Marketing for the Less Tech-Oriented
"Our strategy to acquire users at 1001 Menus may sound a little different from most SaaS startups as we are targeting restaurant owners who are not very "connected" or tech and marketing savvy. This market specificity required us to adapt our strategy and below are our main acquisition tactics:
Outbound sales calls: a majority of the appointments our sales team is making is through cold calling and indeed this still works with restaurant owners!
Recommendation: a lot of restaurant owners who are happy using 1001 Menus recommend us to their peers and these referrals now accounts for nearly 30% of our new users.
Partnerships: we have partnerships with a dozens of companies operating in our sector. For example, POS (point of sales) providers who sell equipments to restaurants send us customers every day.
In conclusion, selling software to restaurants or SMBs definitely forced us to adapt our marketing and user acquisition strategy as most traditional web marketing tactics do not work in this sector." – Xavier Zeitoun, CEO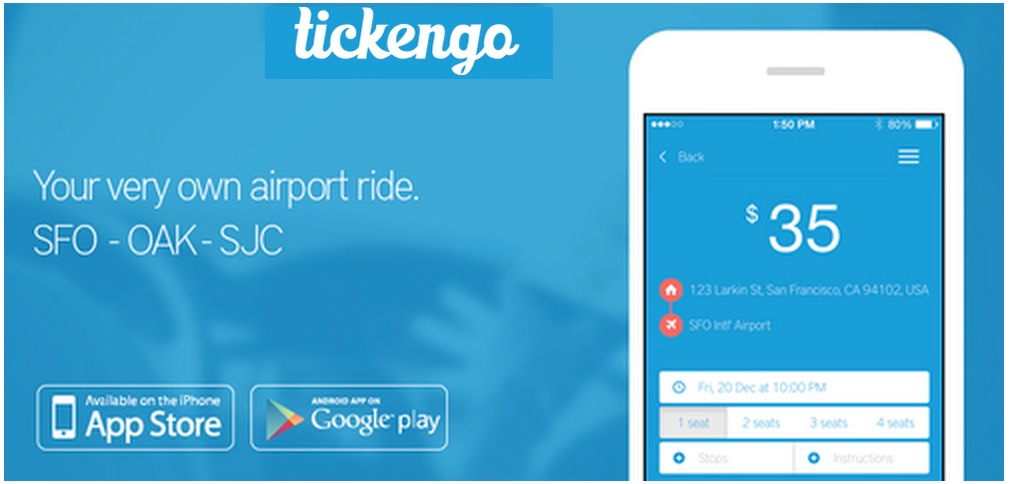 Tickengo – Social Media Targeting for awesome conversion
I had the chance to talk to Jeremie Romand, Tickengo's Marketing Manager, at Kima Days and was really impressed by the fact that this "crowd-sourced ride to the airport" was able to change California law so that the service could exist!!!  When I asked him for Tickengo's hack for customer acquistion, he replied "We use mostly Facebook and Twitter for our acquisition. Those platforms are great for powerful social targeting options. When you push the right product to the right audience conversion is awesome." -Jeremie Romand, CEO

In a quick conversation, Matthieu (马修) David-Experton, shared how it wasn't one but four successful marketing campaigns that helped drive traffic and new customers to Daxue Conseil– SEO, then content creation, and then referrrals and then PR.
In conclusion: as the French say "There are many ways to pluck the feathers from a duck", and in the end, it really depends on your duck… or YOUR MARKET and the strongest ROI to reach those potential customers.
 Rock on Kima and thanks to all of the startups who shared their valuable tips!!!