Guys. Let's talk about LinkedIn contacts.
The networking platform struck gold with a business-centric model that social media moguls like Facebook and Twitter could never quite capture. As such, LinkedIn's popularity has exponentially skyrocketed.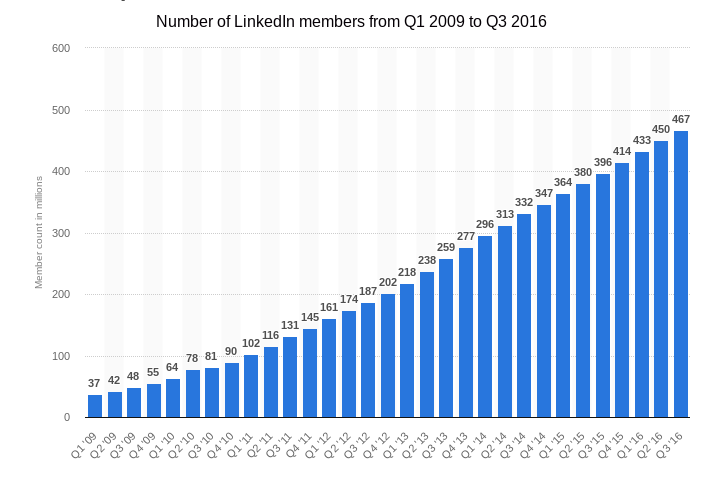 The number of users has since surpassed 500 million… And in all likelihood, you're one of them.
Now, why do we bring this up?
Well – we at Evercontact are in the business of maximizing the value of your connections. And while our specialty lies in automatically updating your email address books, we want our users utilizing their contacts no matter the platform.
Consider this: Over 50% of professionals had more than 500 LinkedIn connections in a 2016 tally.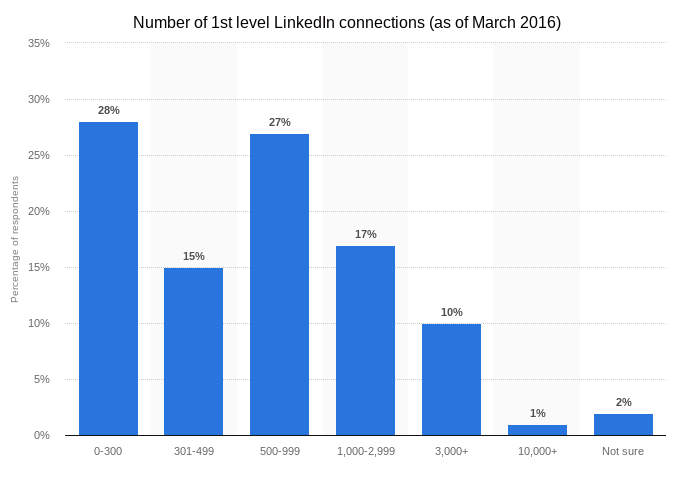 In the past two years, that number has likely only grown further.
Optimizing your LinkedIn connections
The real question, though, is whether you're taking full advantage of all your networking. You may have hundreds – if not thousands! – of LinkedIn contacts in tow.
Well, there's a little trick to add LinkedIn contacts to your address book!
To kick things off – a step-by-step guide to export LinkedIn contacts:
1) Go to "My Network" at the top of your LinkedIn page.

2) On the left, you'll see a count of all your LinkedIn connections. Click "See all."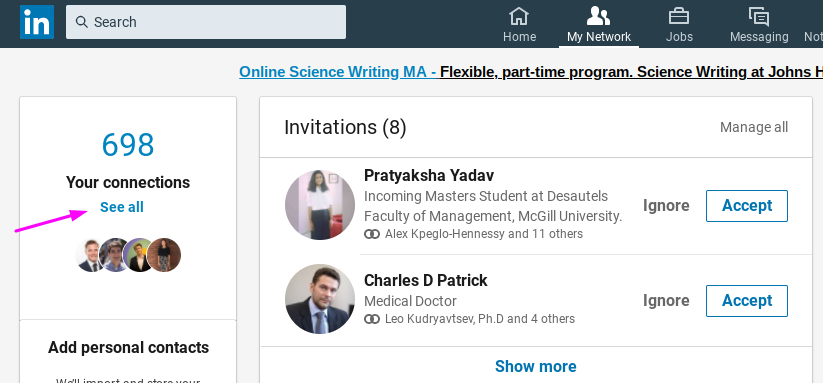 3) On the right side now, select "Manage synced and imported contacts."

4) Next up: "Export contacts."

5) On the next page, under "Download your data," you'll be able to dictate what information you wish to export.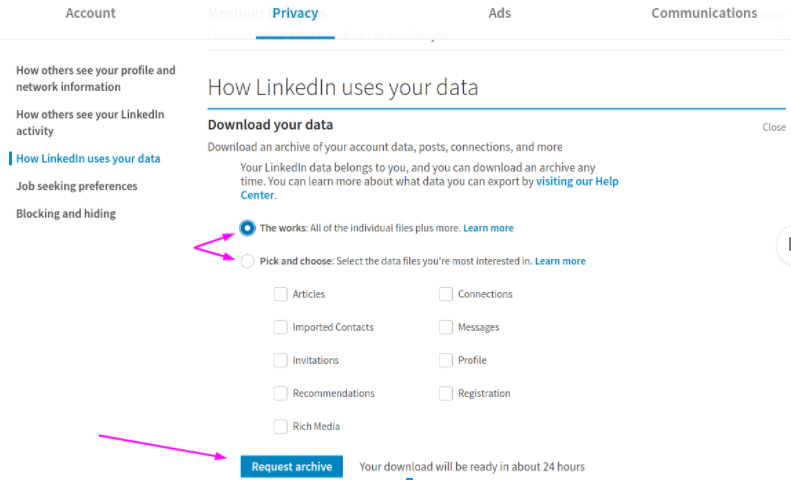 Once you pick, hit "Request archive."
6) You will receive an email within 24 hours (I got mine in about ten minutes).
Once you do, a link will bring you back to the "Download your data" page, where you can access your data file through the "Download archive" link at the bottom.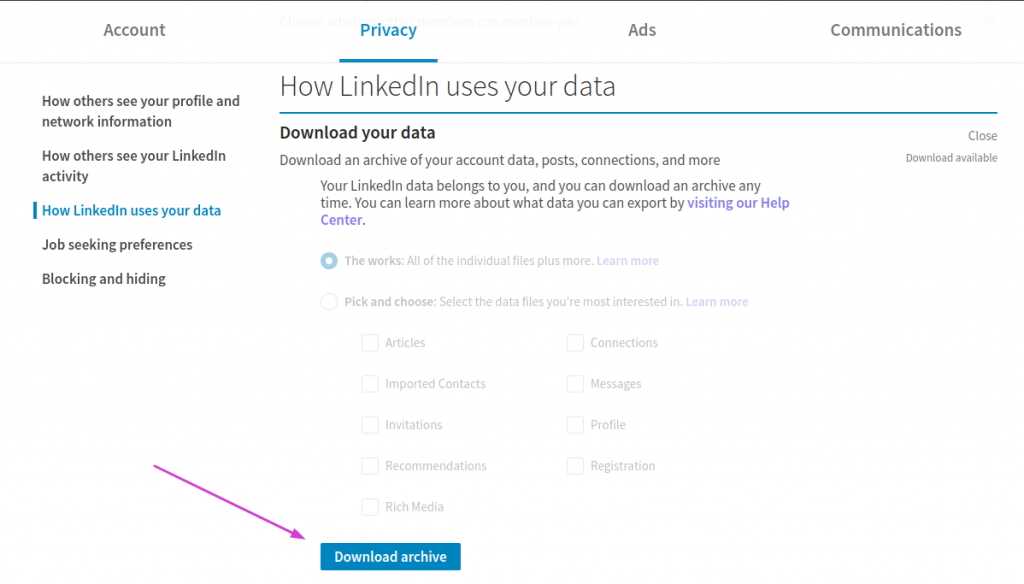 What's next?
That link will take you to a .zip file folder, in which all of your requested data will lie organized into nice, neat .CSV files (read: into Excel or Google Sheets)
Just look at how nice and convenient my exported LinkedIn contacts look! (Featuring: our Marketing Director and CEO as guinea pigs).

Info includes name, email address, company, position, and even original connect date – by itself, a pretty useful record to have stored on file.
But let's take it a step further, shall we?
Import your LinkedIn contacts into your email address book.
The lovely thing about .CSV files (CSV = Comma Separated Value; anything with columns of data that can be split like above) is that they can easily be imported – even into your email contacts!
Thus, you can add LinkedIn contacts to your address book. Options are available to import a .CSV file into:
Do the same for your emails!
Essentially, this process is a ContactRescue for your LinkedIn.
Our ContactRescue service dives into your email archives to recover any lost contacts dating back years.  It automatically updates your existing address book to be 100% accurate… and also delivers all that data in an easily transferable – you guessed it! – .CSV file.
The takeaway: There are easy tools and hacks for keeping your contacts in order, whether in email or on LinkedIn.
So take advantage of them! Stay up-to-date, and don't miss out on any opportunities simply because your contact info is all over the place.
If you have any questions about how to keep your contacts up-to-date, we've got you covered at support@evercontact.com.