In order to better assist you in customizing your experience with WriteThat.Name, we thought we would dedicate this next blog to detailing each of the options on the Settings Page available here.
General Settings
1) Auto-update: Confirm Contact Details: a confirmation email will be sent to your contacts with the details of each change being made to your address book. They will have the option to view the complete details and confirm them.
2)On – the system will automatically update your address book every day at 10:00 GMT.
b)Off – the system will email you an email report with the suggested changes/additions. You can review each suggestion and check the new details before confirming that the updated content is correct. No change will be brought to your address book without your approval.
3) If you would like 100% accuracy, you can ask your contacts to confirm their email.
4) Some clients would prefer not to have the international prefix added. Your choice!
5)Language: select your preferred language.
6) Make sure to Save ANY changes.
7) Deactivate my account: this will unsubscribe you from the WriteThat.Name service.
Plans & Billing

1) Free: The first month of using WriteThat.Name is free, and for every contact you have invited who joins, we'll give you another month of free use.
2) Premium: Paid subscription for single users. Corporate plans are available separately.  Choose a plan by the month or yearly.

1) Invite friends to receive an additional month of free use by sharing a link specific to your account using the following methods:
URL specific to your account – This URL provided has your account embedded in the link, allowing us to track you as the referrer, thus crediting your account with the additional month of free use.
2) We can fill it for you: Click on this link, and we will provide you with a list of people whom you email frequently, then you can type a few extra emails you would like to invite.
3) Or, you have two options for sending invites via your social networks:  Remember, for every contact you have invited who joins, we'll give you another month of free use.
Multi-Account
This feature will allow you to create a Master Account in which you can connect to up to two other email accounts – Slave Accounts. Contacts extracted from those other accounts will be consolidated into your Master Account's address book. Read more here.

Activate the Multi-Account feature and assign Master Account to the Premium Account you wish to sync all other address books with.
Add up to two additional secondary Accounts (which MUST already be registered through WriteThatName sign-up).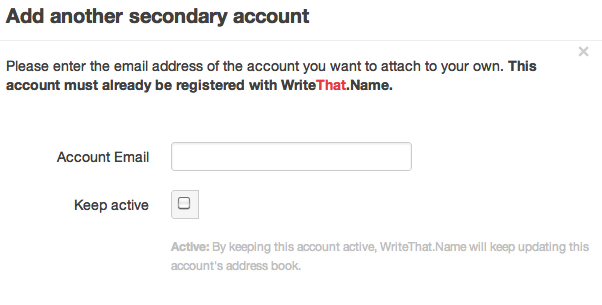 Once the Secondary Accounts have been added, you will have to complete the process by clicking on the link in an email sent to your Secondary Accounts, confirming your selection.
CRM

(self explanatory) 😉
HISTORECALL



Learn more here