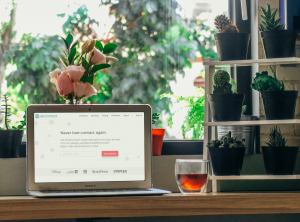 We've all been there: wasting valuable time parsing through old and buried emails to find important contact information. How many times have you wished all of your team's contact data from the past could be comprehensively recovered, and your address book or CRM automatically updated with the information?
Now they can be.
ContactRescue is a service from Evercontact that analyzes your email archives, then rapidly updates all of the contact information you didn't even know you or your team were missing. In 24 hours — or less, depending on the number of emails in your email archives — your contacts will be up-to-date with no valuable time lost and at zero effort to you. ContactRescue updates your address book with pertinent information from email signatures including the name, phone number, title, company name, address, and LinkedIn of your contacts. ContactRescue also allows you to extract contact data from your emails into a .csv file which you can then upload to another email client, your CRM or email marketing service.
We've talked with a lot of companies tired of tedious contact-updating and worried about potentially missing important contact information. ContactRescue is the perfect service for the following business uses:
1. Updating a contact list before an event
If you have a conference or a big meeting coming up, ContactRescue can update your contacts using emails from one to five years ago in less than 24 hours to ensure that you have the right phone numbers, addresses, or other details of attendees.
2. Retrieving an employee's contacts after they've left a company
Integral employees (especially recruiters or salespeople) leaving a company can have devastating consequences on your business because of the valuable contacts that they take with them. By running ContactRescue on their email accounts, you can extract their contacts and ensure the smooth running of your business without individually searching for a client or prospect's contact information in their account.
3. Switching to a new email service
Planning your team's switch from Outlook to Gmail? ContactRescue can seamlessly extract up-to-date contact lists from your team's accounts, ensuring that the hardest part of the switch is getting the hang of G Suite.
4. Importing contact information directly to Salesforce
Rather than perusing thousands of old emails to copy and paste accurate information into your CRM, salespeople can simply run ContactRescue and import the results directly into Salesforce.
Kéyah Harvey, a NYC development associate, says that "ContactRescue is a time and stress saver for any company looking to make a less frustrating switch between CRMs or newly implementing a CRM."
5. Updating your contact list before launching a Mailchimp campaign
If you use Mailchimp to send email campaigns, ContactRescue can provide a detailed .csv file of your email contacts to ensure that you're reaching the most contacts possible with the right information.
6. Recovering contact lists after a system crash
Sometimes the unlikely and the unfortunate happens: any sort of system crash or other emergency which erases all of your contact data. In that event, ContactRescue can help you promptly restore your entire contact list to include all contact information lost and not previously in your address book.
With the importance of networking and maintaining up-to-date contact information, ContactRescue is the service you're looking for to get you caught up quickly and easily. To learn more, visit the pricing page or contact Hugo from our sales team directly at hugo@evercontact.com or +1 (415) 910-4649.