This week, Tom Cox, one of our great clients at WriteThatname asked an important question:
I help my clients set standards.  What could I share with them to guarantee that their staff all had signature blocks that your software would definitely always correctly read?

I know your software tries to read everything that's out there.  I want you to briefly travel in the opposite direction and tell me and other humans "here is a perfect signature block that our software will definitely (almost) always get right" — because right now we're all making this stuff up as we go, and there's no need to re-invent this stuff, and I don't want people creating some new standard that makes it LESS likely that my wonderful WriteThat.Name subscription will correctly capture their info.
As our system analyzes millions of signatures every month, we have a few WriteThatname specific tips for you, as do we have a few general points-of-view and we'd be glad to hear what you think.


DO
1) Include your Name, Post, Company Name, Telephone Number, and actually, we don't think it's a bad idea to add your email as well as some email clients won't always include this in the header information, so having it there can come in handy for some of your contacts.
2) If you're dealing with an international crowd, do provide an international prefix to your phone numbers— actually WriteThatname internationalizes most phone numbers that it analyzes and adds to your address book, thanks to a few smart algorithms, but not everyone in the world has discovered our secret sauce yet 😉
3) For WriteThatname purposes it's best to use the order "your position" at "company name".  We can work around if it's the other way around, but not every time, especially if the company post is a bit "exotic" (aka Sales Hustler, Visual Clearance Engineer, Top Dog etc).  This is an important point for anyone with CRM connections as otherwise, the updates will not go into the right categories in HighRise or Salesforce.
4) Separate your signature from the body with the accepted form "- -":
Body
– –
Signature
5) Individual elements should be separated by a | or by writing each element line by line.  Both of these are fine: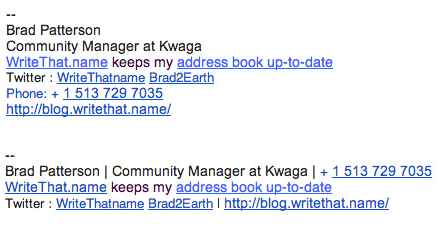 6) If you're active on
social media
, you can include your account links in your signature, or go even a step further and set up
WiseStamp
 – with which we are compliant – and include your latest updates from those various networks.
7) Adding an image, tag lines and other exotic content which can be good for "branding" has little impact on WriteThatname and is most often not added to an address book as it rarely fits into a "detail category".  Best to keep it "separated" from other information in the way described in point 4.
DON'T
1) NEVER, ever, ever… ever, ever ever use a sole image with all of your information.  WriteThatname can't read it, nor can gmail index it.  Your contacts that don't have WriteThatname can't copy and paste it… it's just bad news!  Feel free to add an image in addition to your contact details text.  If done well it can be nice branding, though it does force all of your contacts to "accept images" from you which might be a negative premium in some cases… also remember they're going to see it every single time they receive an email from you, so do make sure it looks professional.
2)
Legal mentions
at the bottom in most cases are useless, and in many countries completely devoid of any weight.  We suggest you only use them if required, and these two articles explain a bit more why: 
here
and
here
.
3) Probably best to avoid "columns" and any kind of "ascii art".  The human eye can read it fine, but computers simply don't get it when they go from left to right.  🙁
4) If your social media accounts or personal website don't "blend" well with your company's branding, probably best not to include them.
That's our 2 cents.  What would you add?