Photo by Photoshop 
Well the entire tech world is obviously buzzing with the news that Evercontact has won the Enterprise Software category at the World Cup Tech Challenge, plus the bronze medal for 3rd place overall.

Here's the video with live action of Evercontact's pitch and win:
So we were lucky to get an exclusive interview with founder and team captain Philippe Laval just after the event. He will share behind the scenes action, how the play unfolded, how he feels at this emotional moment, and what's next.
So, Philippe, thanks so much for taking the time to talk to us today, I know you must be receiving thousands of congratulatory calls and interview requests. Can you tell us first how you feel right now?
I am of course extremely happy and honored by Evercontact's victory, it's a vindication of all of the hard work and innovation by our team to create a world class service. Plus a great experience for me to meet so many interesting players in the international tech world gathered together in the Bay Area.
You must have been very anxious facing top contenders from tech startups all over the world, how did you steady your nerves?
Well I am French so normally I would calm them with a nice glass of wine, but as the event started in the early a.m. in very businesslike conditions in Silicon Valley, I had to make do with a lot of coffee and the confidence in our superior product 🙂

Additionally, I was not alone, my teammates Eric Bezy and Solange Murat had to stay on the bench during my presentation but were there for support before and after.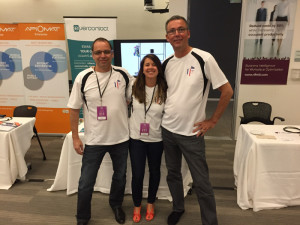 Team Evercontact:  Eric Bezy, Solange Murat and Philippe Laval
How was the buzz at the stadium (oops Microsoft conference center)?
The WTC 2015 was an impressive event! It was perfectly managed by hosts SVForum, Adiba Barney did an amazing job of giving us all a warm welcome, cheering us up, motivating us and creating a thriving and vibrant atmosphere. Every continent was here, with every team cheering on their country. It really had that Olympic Games spirit.


And it was an honor to be representing France along with our fellow ubi/io squad members Adways and Hexo+.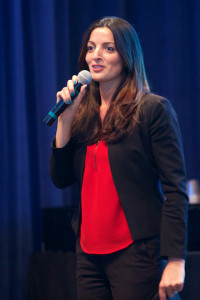 Adiba Barney's Welcome (photo Miller of Sapient Studios)
Were the competition friendly or was it tense behind the scenes ?
Despite the competition it was all about networking and a really friendly meeting where you can meet with  "la creme de la creme ' of geeks from all around the world.

I was expecting a more hostile atmosphere given the stakes at hand, but with such world class products it seemed that everyone was really just happy to have been selected for the finals. We traded tips and shared startup training stories.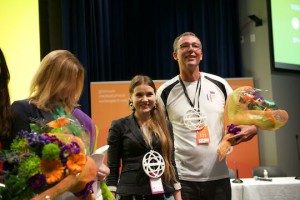 Philippe with Irina from team Hoope (photo Miller of Sapient Studios)

We met a bunch of really cool people, Solange particularly enjoyed talking with Irina Rymshina, from Hoope. Irina shared her preparation tips with us and did an amazing pitch, and actually won in Health care technology category. We also loved Livox.

Also, there were fantastic speakers, Pascal Finette, Managing Director at Singularity University Labs gave a particularly impression closing keynote. Everyone was glued to their seats up until the last slide.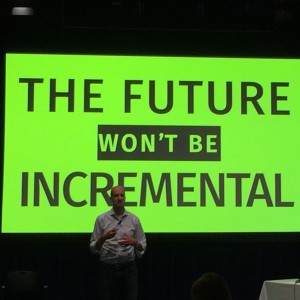 Closing Keynote by Pascale Finette from Singularity
Evercontact was actually in 2nd place in your category by the internet vote coming into the competition, did that stress you out before your pitch?
I would normally have been more nervous, but our entire team has been training behind the scenes in preparation for this type of event for a while now. We've been refining Evercontact to make sure it is suitable for all types of play no matter what the conditions, not just Gmail but Outlook, Iphone, Chrome and CRMs like Salesforce.

So I felt prepared and ready to present.

(from Evercontact team member Solange Murat) We were so excited when Philippe walked down the step to the rythm of La Marseillaise, waving our little French flags to cheer him on. I was holding my breath when he started his pitch. Philippe practiced his pitch till the very last minute with me, I knew he was very prepared and could make it and win, and he did!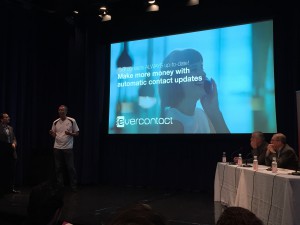 Philippe Laval pitching for Evercontact
Well that's great for the presentation phase, but when things went into Overtime with the judge's questioning, you appeared quite confident but must have been really nervous!
Absolutely! The judges presented some tough challenges, asking particularly about the 100% accuracy guarantee which seems to good to be true.

But I was prepared with answers, the techniques that we have preparing and refining the product based on feedback from our enterprise clients meant we were more than prepared to meet these challenges and to be sure to have a positive response to these types of questions.

We know from the feedback from our toughest trainers, clients, that Evercontact is a great service, and an amazing time and hassle saver for our clients who need to concentrate on growing their network, and not worrying about having the wrong or incomplete contact information.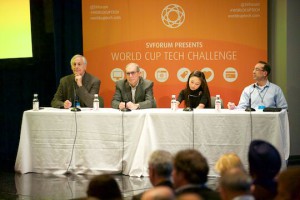 The panel of Judges  (photo Miller of Sapient Studios)
Tell us a bit about your training methods and what the Evercontact team strives for?
Our goal is to make sure our clients never have to worry about outdated or missing contact information ever again. Evercontact takes care of this automatically, behind the scenes by automatically mining their inbox for email signatures, selecting only real contacts, and comparing this information to their contact list in order to add missing and updated changed information.

Players on all types of teams have a habit of changing, and by plugging Evercontact into their email and CRM system, lost or outdated contacts when employees leave or when prospects or clients change companies is no longer an issue.

We can make sure that clients can follow their contacts to their new phone numbers, titles and companies, and also that if anyone leaves their team, their valuable contact information won't leave with them.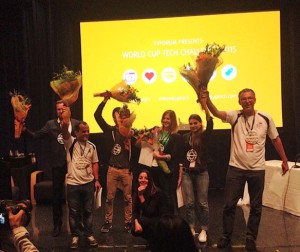 The Category Champions  (photo Miller of Sapient Studios)
So what's next for a world champion? Is Evercontact going to rest on its laurels or strive for more?
Well the competition continues for us, we want to make absolutely sure we stay ahead of the pack by refining and expanding our offering to be a total contact updating solution.

There will not be much time to just celebrate if we want to stay on top of our game.

We are right now launching Evercontact for Office365, integrating into new systems like Import2, and of course constantly refining our core service to make sure it is the very best.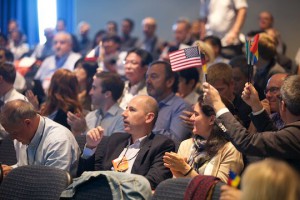 Supporters cheering on their country's teams  (photo Miller of Sapient Studios)
Well congratulations again Philippe and the entire Evercontact team! Anything else you'd like to add?
Yes, Vive la France! 😉

Well, I really must put in a mention for the food, always something very important for French people, even tech geeks. They had a buffet with amazing sandwiches but the best part was the cocktail reception afterwards, maybe because at that time we were celebrating our victory with nice Californian wine (yes, it exists!) and "amuse bouche's.

And of course I'd like to thank all of our loyal supporters and longtime clients that have helped us out by trying Evercontact and providing feedback to create a world class product. As well as everyone who voted for us in this competition. We couldn't have done it without you.
How can well-wishers and people who would like to know more about how they can use Evercontact get in touch?
We would love to hear from them! They can contact us at support@evercontact.com, follow Evercontact's blog at or visit the Evercontact site for more information.

We hope you enjoyed our tongue in cheek interview (hey you have to try to make tech a bit more fun sometimes!) and we'd like to thank SVForum for selecting us among the participants and hosting such a wonderful day. 
As always, your feedback is welcome, please feel free to comment below!