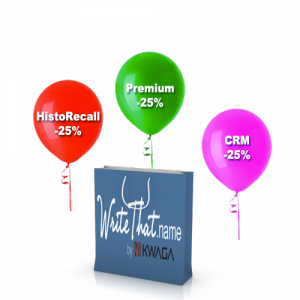 Paris, May 30, 2012 – Kwaga has announced today that WriteThat.name the online service that automatically updates email address books, just hit its first-year mark. To celebrate the event, Kwaga will be offering twenty-five percent discounts on all of its subscriptions and features from May 30 to June 7.
May 31st will not only be remembered for the birth of an innovative email service, but also the birth of a great universal soul, that of Walt Whitman nearly 200 years ago, who famously said:
 "If you done it, it ain't bragging"
Since its launch a year ago, Writethat.name has analyzed more than 100 million emails and created 1.5 million contact cards for its international community of users.
 "We are pleased and proud with the success WriteThat.Name has had since its launch in 2011. We would especially like to thank our users for their confidence, for sharing the service within their communities, and also for their valuable feedback which enables us to continually improve this great application. Our success is also theirs, and that's why we want to celebrate this first birthday with them!" said CEO Philippe Laval
And what's a birthday without presents?
From May 30 to June 7, Kwaga is offering a 25% discount on first year subscription services:
Premium version WriteThat.Name for $15/year instead of $20.
HistoRecall, the tool that scans a year of emails for a fast, complete update, available at $15/year instead of $20.
The Highrise connector that allows WriteThat.Name to update one's CRM contacts from $2.25/month instead of $3.
Registration and purchases are available on the WriteThat.name site.