"WriteThat.Name allows for the automatic maintenance of an email address book. Thus, if someone in your network changes companies or phone numbers, the information will be updated in your address book."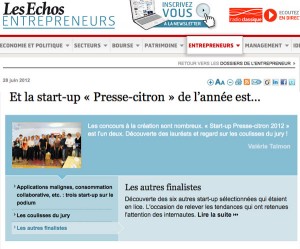 Les Echos has covered the Press Citron Startup of the Year 2012. We were named the first Startup of the Month back in October 2011, thanks to our amazing fans, and honored to be listed as one of the finalists. Check out this great article detailing us as well as some of the other best startups here in France.
Congratulations to Babble Planet, Presse Citron's Startup of the Year 2012.
Click here to read the full article.