Name: Fanny Grandry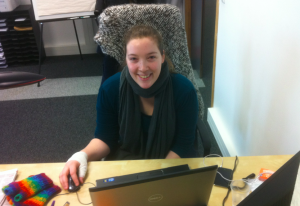 Title at Kwaga: Linguistic Engineer
Magical expertise:  weaving Natural Language Processing programs to extract key information for WriteThat.name: street addressees, phone numbers, email, Twitter handles, etc.  She can attest to the fact that finding that fine line between extracting what is useful and disregarding that what is extraneous is a tad more complicated than it might at first seem!
Why did Fanny choose Kwaga ?   
As a young girl, Fanny had a dream: she wanted to speak every language in the universe, to reverse the tower of Babel of sorts.  Still moving forward on her dream, today Fanny is fluent in English, French and Mandarin and she can also find her way in German, Italian, Korean & Japanese.  Talk about a polyglot!!!
While chatting with her, she said "Language fascinates me, and I've always seen it kind of like a secret code to be deciphered: be it in my own alphabet, pictographs, or even a language I've never seen before!"  She said she could have seen herself as a full-on linguist (and did the studies to achieve such), but instead decided to combine her passion with something a little different: computer science and programing languages.In a roundabout way, Fanny's dream of learning every single language in the universe has come true as she's become a linguistic engineer allowing her to dream up tools to understand any language you can imagine!  Ah, if only all our childhood dreams could come true!!!