If you're not having fun at a startup, something's probably not right which brings me to introduce…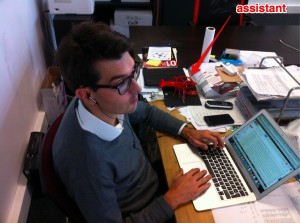 MeetThatname: Thomas Doctrinal, Kwaga's BizDev and the guy in the office that always has a joke for ya… every office needs one!!!!
Main expertise: BizDev.  He's a hustler as it pertains to startups; whether it's cold-calling, nurturing a new lead, going back and forth with new corporate clients to see what their needs are, or having lunch with a Parisian company to discuss a WriteThatname-Outlook-SalesForce full installation… he's hustling and ALWAYS with a sense of humor!
Why Kwaga? Thomas has been in software sales for over 10 years and when the Kwaga team started to form, he was immediately brought on board to run bizdev, marketing, and more.
Bragging rights:  He brought the biggest corporate client on board, multiplying the WriteThatname user base by two overnight!
Current Mission: Expand the WriteThatname fever to an exponential amount of corporate clients all across the world.  Find new Google Apps Resellers that are excited about what we're doing and continue to rock out like the Growth hustler that he is.
CONCLUSION:  Thomas keeps the WriteThatname team smiling and the inbound and outbound marketing rockin!