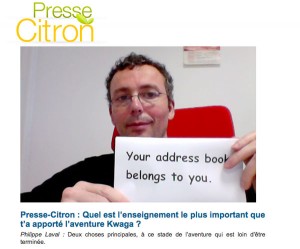 In September of last year, Presse-Citron named Kwaga their first Startup of the Month. They checked back in with us last week to see what we've been doing lately. It was a great opportunity to reflect back on what changes we've made, how we've grown, and how we are making our services better for you, our customers!
All of my francophone friends out there, take a moment and check out this great interview by Valentin Pringuay – and keep us in mind at the end of this year as Presse-Citron asks you to vote for the French Startup Company of the Year.
Click here to read the full article.
For my English-reading friends, here's a brief summary of what we've been up to in the past 8 months:
Fundraising – we announced in January, our first fundraiser of €1.2 million from private investors advised by Financière Fonds Privés. This allowed us add new personnel, bringing you a stronger, better Kwaga team.
Recruiting – allow me to introduce our new additions:
Brad Patterson – Community Manager
Adi Bein – Marketing Director
Bruno Foucault Deputy General Manager in charge of Business Development focusing primarily on developing an ecosystem of third-party CRM vendors and system integrators for WriteThat.name. Bruno is the former CEO of Siebel France and his experience will be invaluable.
New Features
Launched in May 2011 for Gmail and Google Apps, WriteThat.name now works with Outlook (beta) and Lotus Notes.
We also launched a feature that either you love or haven't tried yet: HistoRecall. This is an feature that allows WriteThat.name to scan all of the emails you've received the 12 months prior to registering for the service, and WriteThat.name will extract and update all new contact details found. It really is the logical addition for all users satisfied with our service.