What is every sales person in the world looking for?
A. A way to speed up their sales pipeline
B. A way to send a batch of powerful emails and see immediately when they're opened and then call that hot lead
C. A way to continually bump up their monthly sales
D. A way to see what's working best as an approach for their entire team, and then use and continue to tweak that approach
E. All of the above
If you answered E, you're absolutely right, and for that matter, if any of those answers really hit home for you, then I've found a tool that will help you and your team get there!  For the past month, I've been testing out Yesware, a platform that helps salespeople work more effectively, and right from within their inbox.
So what is Yesware and how will it help you?
Ever wished you could better understand what happens after you hit "send"?  I mean, it's email so you can't "read" the person in front of you like you used to in the good ol' days, or even hear their voice on the phone.  There within lies part of Yesware's secret sauce– now you can get hints of how interested they are, and tools to make sure you keep them in that place of interest.  In a few words, their solution allows you to:
See who opens your emails and clicks on your links
Set email reminders to follow up on important messages
Automatically sync your emails to Salesforce and other major CRMs
Create winning email templates that can be continually improved in a data-driven way.
That's the gist of Yesware, but it's really just the start of what they offer.  To break it down most simply, Yesware is a gmail plugin that unifies a ton of your sales data- that you probably wouldn't have otherwise tracked, noted or followed up on- thus providing you and your team with greater insights into your sales funnel, and also removing some nasty barriers to productivity.
Here's a quick peek what the "Yesware dashboard" looks like within gmail — you can access many features within a the top bar highlighted in green — your events ie emails tracked, scheduled emails, reminders and more.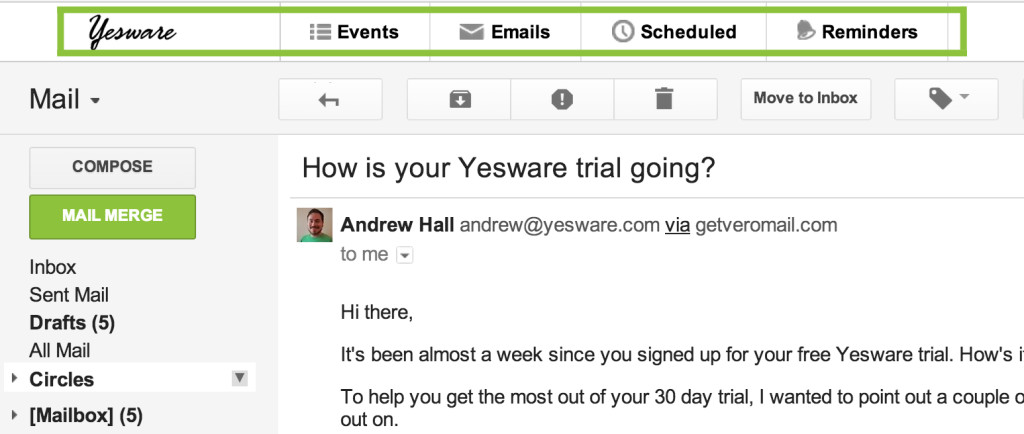 The example below shows emails that I recently tracked and how I can follow up with those important exchanges.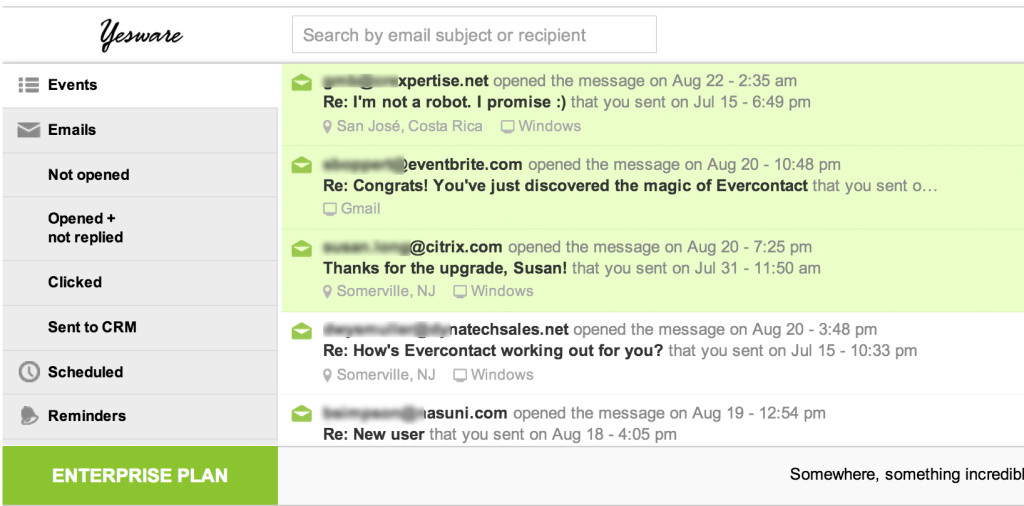 5 ways Yesware has become a POWERFUL tool for me
1) Save time & increase my effectiveness with data-driven-proven email templates
So, most people spend about 28% of their workday writing emails and I actually spend more than that as I handle the large majority of B2C and some B2B communications for Evercontact.  And, yet, it still feels like a lot of time, and maybe that can be optimized, right?  When I started digging into Yesware's templates, I quickly realized it was a great way to bring back 30 minutes into your day by saving & reusing those messages you know that you're writing and rewriting again and again.
Example of a referral email template I use when our clients at Evercontact have just upgraded: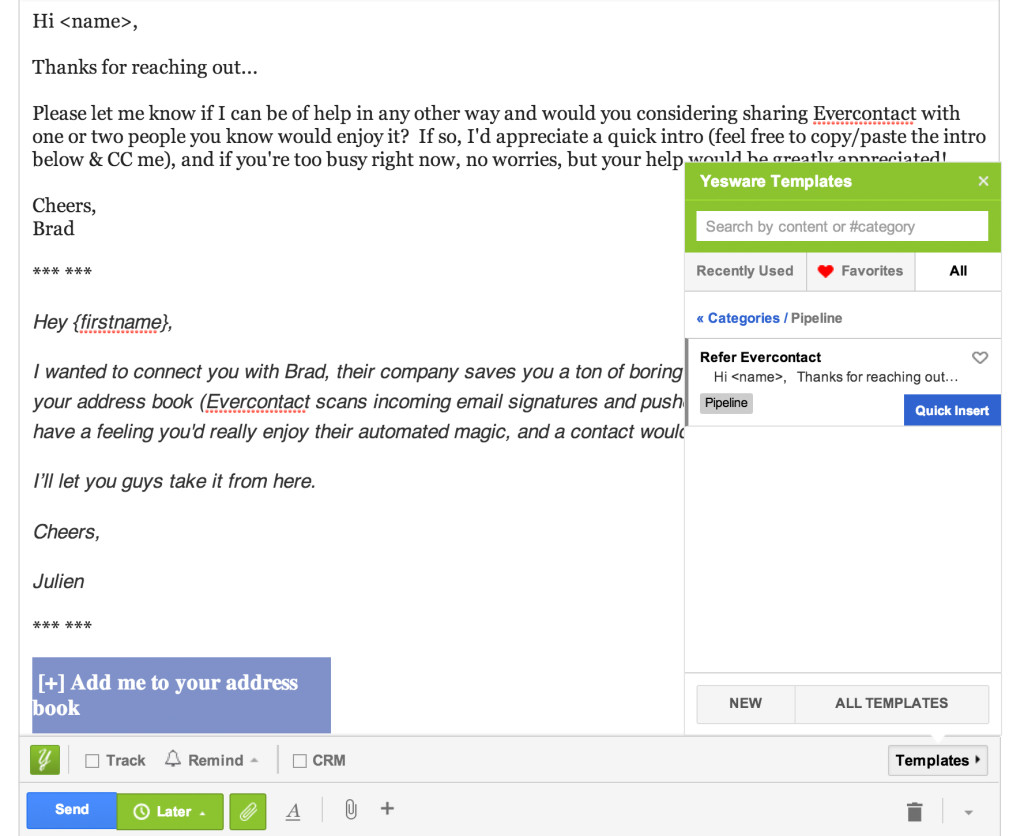 Not only that, but you can track how effective those emails are, and slowly begin to improve them (and this can be a team effort as well as Yesware allows you to analyze your whole team's email open rate, click-thru rates and more).   And if you need a quick hand on improving your cold emails, keep-in-touch emails, or ways to write emails that get much higher responses, then definitely check out those links that the Yesware team has kindly concocted for us all!
I can't go to point #2 without highlighting how one of the techniques described in a post above (getting higher responses) has become such a winner for me, and I know you've been there before — basically you've been going back & forth with someone for weeks and then suddenly nothing… no reply, no reply to 2nd follow-up and… nothing.
Well, it's time to "throw in the frog" or use a bit of humor that'll bring back that "lost audience"… and I swear the 5 times I've used this approach  this week alone, I've gotten a response every single time! Give it a try, and you might be surprised at the humor that comes back to you.  Everybody needs to laugh, right!  🙂  Example below, and yes that's one of my new templates!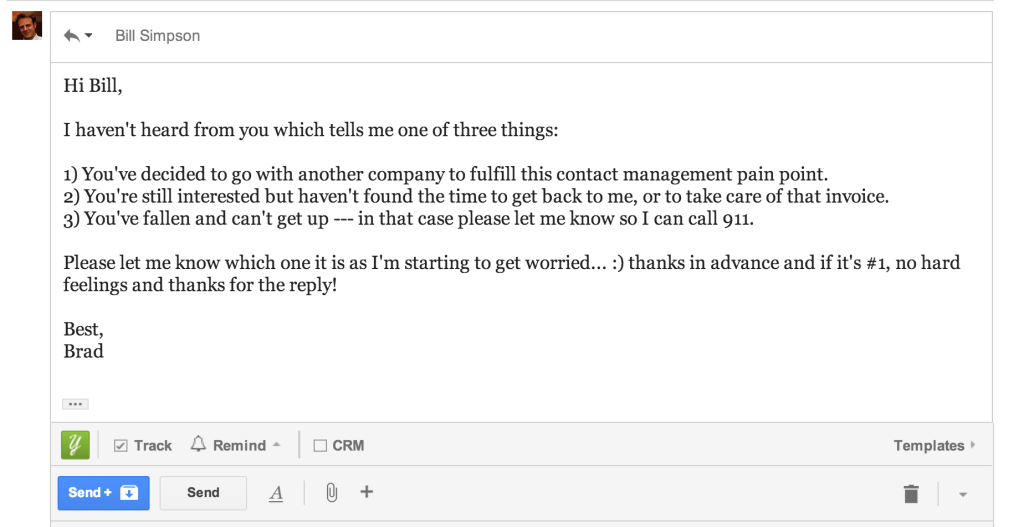 2) Know when my contacts have opened their email / clicked on the links that I've sent
If you're like me, you think back to your big lead of the week that didn't reply and wonder if they even read that message you had sent, or have already taken the time to look at the link you sent them… knowing whether they did or not can certainly help you decide how to move forward with them, but before you didn't have that info to act on. With Yesware, you can click on "track" as you see in the image above and when someone reads that email, you get a notification in the top right of your screen.
The real combo would to then call that person immediately and continue the conversation as the timing couldn't get any better — you know they're reading their email and probably have a bit of time (ie not in a meeting… at least we hope you're not reading your emails when you're in a meeting!) I took a peek at one of yesware's case studies where a client of theirs, Dyn, increased their overall call connection rate by 32% thanks to this method of calling their leads when they saw the notification that someone had opened their email… worth noting that their overall sales improved by 26% too!
You could use their very handy "mail merge" function to email 20 lukewarm leads and then call the first recipient that triggers a notification and see how best to move the deal forward in a much more effective way then sending off 3 or 4 followups, which we know rarely work after the 2nd!
3) Send Messages at the right time so they're more likely to be opened!
Know what the best time to send off your marketing emails is… or for that matter, your tweets, FB shares, blog posts?  I go by the "Science of Timing" which Dan Zarella published for Hubspot, and normally aim at getting most emails to people between noon and 1pm their time.  I KNOW, I KNOW, you're wondering if I wait all day for noon-1pm and then whip off all my emails.  Well, of course not.
Yesware has a very handy function, send later, that allows you to pinpoint the time your email lands in your recipient's email box — so you can send it at the best time for open/engagement rates, and no mater if that person is in Australia, Germany or New York, LA… and for that matter, no matter where you are as well – gym, beach, office, grocery store, because you timed that email the day before!  Yes, that also means that you can hide the fact that you're working at 3am too, or you can send off an email for 6:55AM making people think that you're an early riser too 😉


4) Know when someone hasn't acted on an email I've sent, and follow up automatically
Yesware allows you to set reminders for any email you send out, or likewise, if you do a mail merge, now you can automatically follow up with a second chain of emails if the person doesn't reply within a certain amount of time (say 2 days, 4 days, 1 week).  Imagine how much time this can save you, and how more effective it is to have this more global approach with your sales funnel.
5) Reports & Analytics – View detailed analytics on emails sent, opens, and template response rates.
It's the age of data-driven decision-making as we've discussed often before on the blog (ie when big data becomes smart data), and this is where the real power of Yesware comes to play for someone trying to hone their email marketing, and especially for teams that will have lots of different sales people trying different things with different approaches.  The game is to find what works, and the data very rarely lies.
Yesware allows you to see what templates are working best, what % of your emails got responses, how different teammates are performing with their sales funnel, how long people take to reply to your emails and much more, much more.  Sample from their site: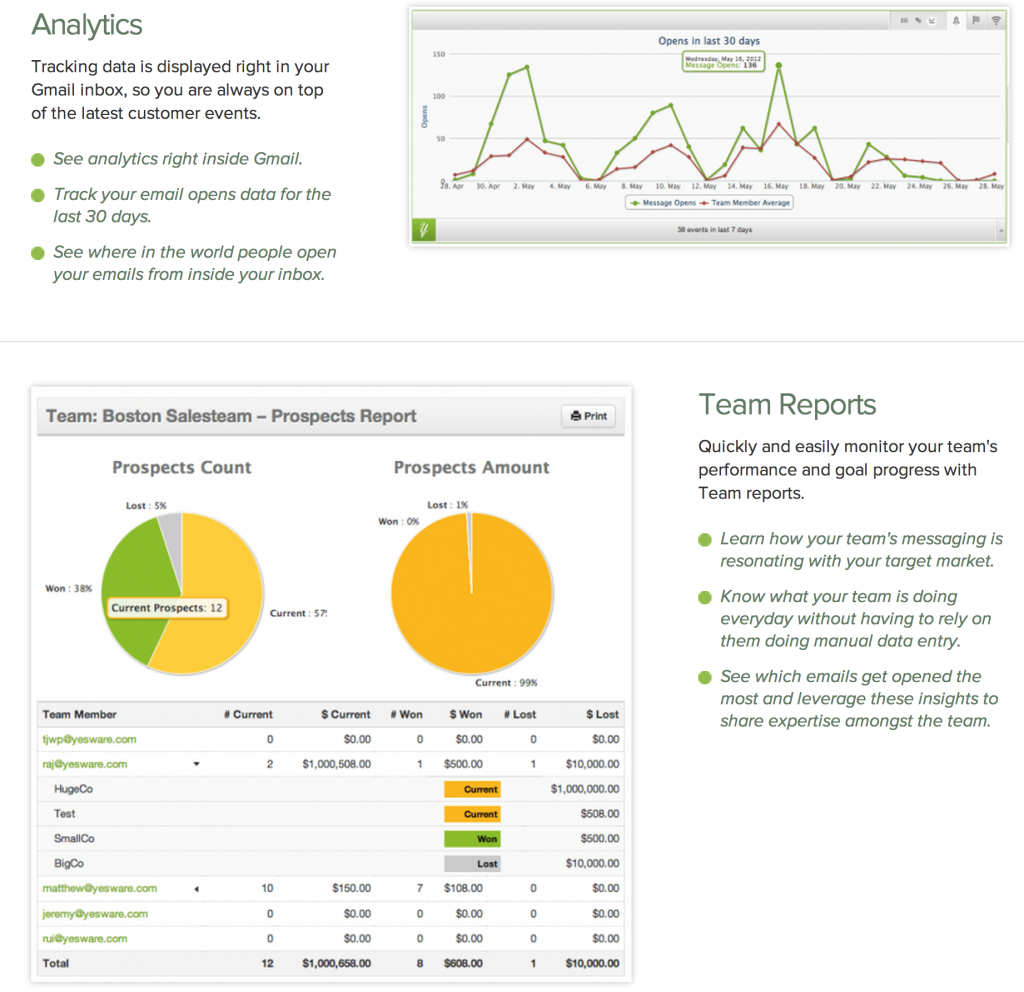 Definitely important to mention as well Yesware's CRM sync to a number of powerful CRM platforms like Salesforce, Batchbook, Pipedrive, Capsule, Highrise, SugarCRM, Relenta, Nimble, Netsuite, Nutshell, Zoho and others. It'll save you a ton of time as it syncs your emails, calendar events from gmail directly to those services, and of course avoids data entry errors.  Yeah, Yesware definitely rocks and it's not surprising that they just appeared in the New York Times and raised over 18 million dollars in venture capital in the past few years; it's a service that's filling a real need, and doing so brilliantly.
SO, READY TO GIVE YESWARE A GO?
Then do so with this MAGICAL link which gives you 2 free months of their Enterprise product ($80 value) just because we love what they do and asked for a special deal for our Evercontact clients!  It's a limited time offer, so get it quick.  Feel free to shoot off any questions below, check out their video teaser, and I certainly hope you give Yesware a go as I'm sure you'll be as impressed as I am!