…because we know there's a superhero hiding in all of us 😉

To help unlock your powers, here's a stellar new PDF from the fellas at Sanebox that'll rock your world!!!  
(click below)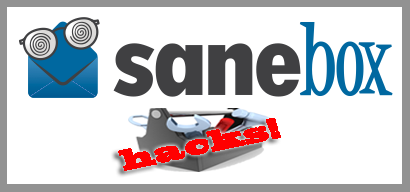 Among the 100 hacks presented there, our 13 favorite are:
(Brad comments in italics)
2) Bulk-process your bacn (set up auto-filters for less important email)
9) Use templates (for emails you send often)
11) Before you Reply All (ooooooo so dangerous 😉 )
16) Don't put images in your signature (and actually our stats after analyzing hundreds of millions of emails show that only about 5% of email signatures have an image… EVEN WORSE, never ever ever make your entire signature an image.  More signature tips here).
19) Short and oh so sweet. Email is a to do list. Treat it as such. via @alex  (couldn't agree more and have written about it here… probably commandment #1 when possible!)
20) Create an Unhackable password (I have a similar formula and-knock on wood-haven't been hacked yet!)
32) Set follow-up reminders as not everyone'll reply to your email (Sanebox Reminder and Boomerang are pure genius for this and I've mentioned both here on the blog for follow-ups and general productivity: 7 simple ways to get to inbox zero post)
34) Shortcuts are your friend (my favorite intro post on this is here, and keyrocket is great tip mentioned in hack 82 and here on the blog as well)
37) Become a signature pro (solid tips.  no need to go overboard with the signature unless it's done in a classy way.  Quality over Quantity)
41) Best Gmail Lab: Undo Send (Amen!!!!)
55) No open-ended questions Have you ever ended a long email with "Thoughts?" Then you're evil. Be specific. Say "Do you think we should do X, Y or Z?" (A pet peeve of my own and well-said!)
67) Numerical Lists and Bullet points (Another hack mentioned trying to keep one action to one email, and that's true often, but not always.  If there's more than 2 actions, I always number 'em) 
78-97) Stellar email apps that everyone should try at least once including sanebox, boomerang, unroll.me, contactually, Maibox, WriteThatname (merci!) and Rapportive.
Thank you to the sanebox team for this great resource and kind recommendation of WriteThat.name.
Any hacks you'd add?
 Rock it out in the comments!