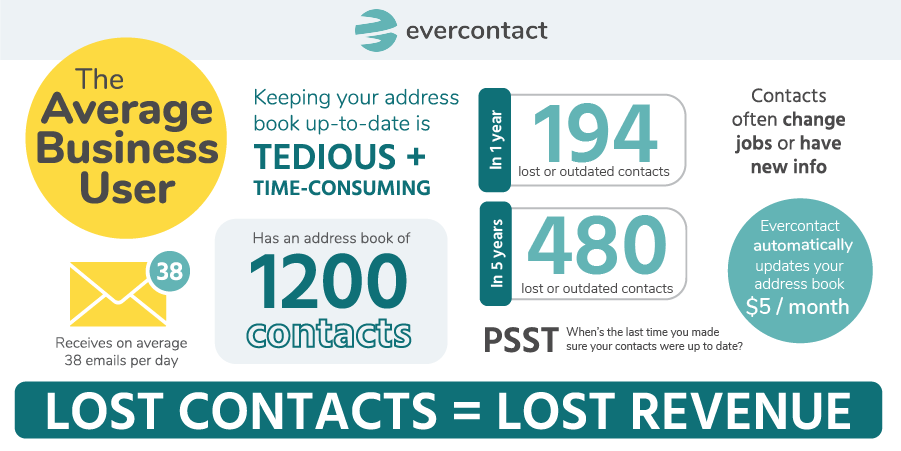 Curious what's really going on behind your emails? Well… We were too. So we at Evercontact did a little email data dive to get to the bottom of things!
After all, we have analyzed over 4.6 billion emails to date. It turns out that between them all, there are tons of eye-popping data-rich statistics hiding in plain sight.
As the data nerds we are, we put on our analytics hats to dig a bit deeper. The result? An infographic study on the networks and email activity of busy professionals rife with valuable insights.
For instance, did you know that over the course of 1 year, our average professional has nearly 200 contacts that either have outdated info or weren't added to the address book, to begin with! That's pretty astounding… Consider all the connections and prospects you might be falling out of touch with without even knowing it.

And as far as business ramifications are concerned, marketing studies strongly suggest that these lost contacts are a top concern.
Here are some other questions our handy email data dive answers:
How long does it take for half your address book to be out-of-date? (It's quicker than you'd think!)

How much time can you save by not manually tending to your address book?

**What is the absolutely insane amount of contacts we analyzed for the user who is currently atop the "Evercontact leaderboards."
… As well as some surprising email trends (i.e. the average thread size of a "reply all").
For all that and much, much more, check out the detailed infographic now!