Outdated contacts are much more common than you think
Our data wizards have crunched the numbers and in the process, they managed to dig up some eye-opening statistics on outdated contacts.
For instance,
In one year, the average person has 194 lost or outdated contacts wasting away in his or her inbox
In five years, we've seen that number climb up to 480 for our users
Just imagine all the potential value lost right there! Each time a new contact is missed or an existing acquaintance's updated info gets lost in the shuffle, your business suffers.
And our findings are far from unusual. In fact, roughly 17% of Americans change email addresses every 6 months. According to that source, companies employing email marketing (read: literally all of us) can expect up to 30% of their subscribers to have new primary emails within a year.
A pain point for email marketers everywhere
A 2017 Ascend2 study found "Enriching contact data quality" to be the primary "barrier to success" of email marketers surveyed. Take a look: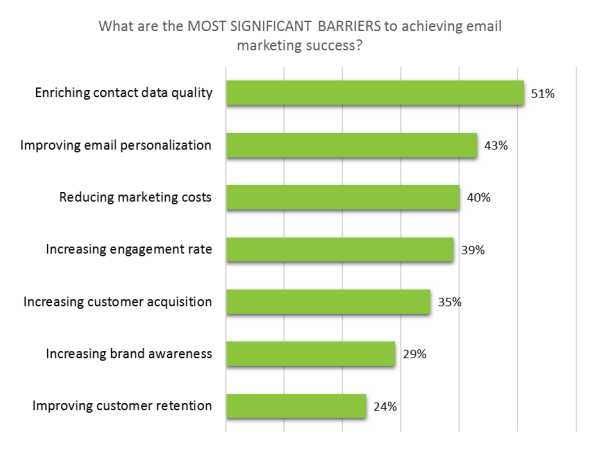 Based on the top two complaints listed, businesses desperately need accurate contact information for each individual prospect and associate. The problem is: updating contacts is a tedious and time-consuming task. It could take hours upon hours to get every detail jotted down.
And even then, you still run the risk of human error.
Point being – managing contacts is a legitimate issue for the many of us who rely on email marketing. And we should point out that despite all the misguided murmurs that email is an old dog on its last breath, email marketing is as prevalent as ever.
In fact, nearly 80% of marketing influencers actually believe email is becoming more effective and up to 90% claim to find success with their campaigns. According to most statistics, businesses everywhere depend on email as their bread and butter for winning conversions.
And yet… So many of them are struggling with contact data and are missing out on valuable connections as a result. After all, a lost contact leads to lost revenue.
Businesses need quality contacts
When it comes to prospects, the focus should be on "quantity over quality." Metrics confirm that businesses find more value in accurately updated contact lists.
Keeping up a routine maintenance on those lists and acquiring enough information to personalize your automated messages can make all the difference. In fact, here are some further findings of the Ascend2 study: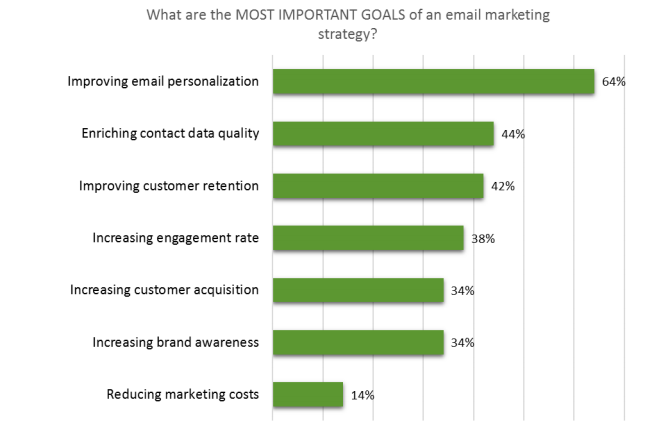 Thus, not only are email personalization and enriched contacts the greatest issues for email marketers, but they are also the most important parts of those marketers' strategies!
That's why over half of these experts use a combination of in-house and external resources for contact management. And that's why we spend all our time cooking up an external resource that will instantly simplify your life.
Evercontact will take care of your outdated contacts
… And save you boatloads of time in the process.
With Evercontact, your address book will be updated in real time:
When you receive a new contact, we'll accurately add their information to your list!
When an existing contact changes their info, we'll reflect it as well
Our stats have shown that the typical busy professional receives an average of 38 emails per day. And if you're anything like the busy professionals we know, you simply don't have the time to manually update each email sender's contact info.
That's exactly what we're here for – to avoid this pain point. To ensure you don't waste any time and don't lose any contacts. Best of both worlds.
If you have deep email archives rife with valuable contacts, our ContactRescue solution goes back in time:
Recovering contacts from 1 or 5 years back, updating and adding them as necessary
Is easily integrated with your CRM to update your contacts in Salesforce or Highrise
For further questions about how Evercontact and ContactRescue can save you time and capitalize on your prospect lists, contact one of our reps!