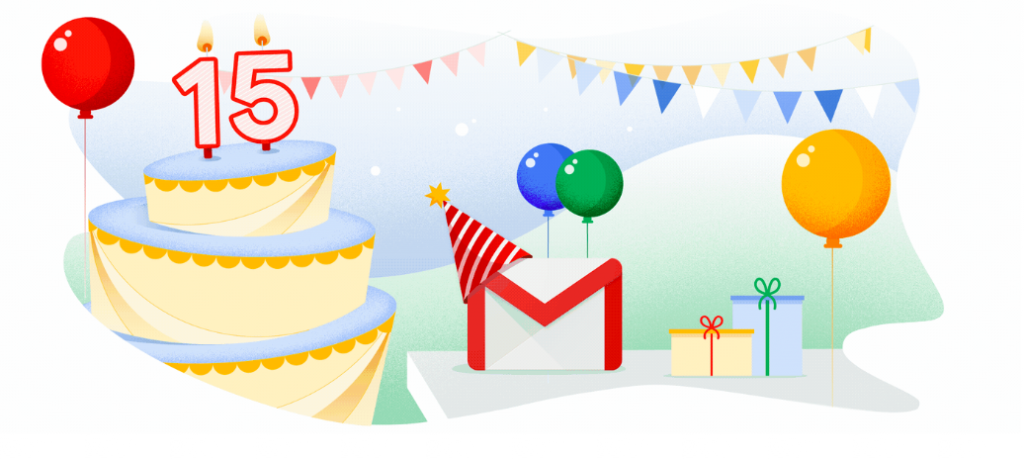 As a company that seamlessly integrates with Gmail, we of course have both awe and excitement around Gmail turning 15.
We're in awe of their success and the fact email itself is absolutely thriving (Part One, here).
We're excited about all the new features and what that means for us at Evercontact being in it for the long haul (Part Two, below)
Here's What is New
Time to nerd out, shall we?
Instant email viewing without having to scroll a long thread to see attachments. Simply hovering over a message to RSVP, archive or snooze.
Smart replies. Those have started to roll out on Android phones a few months back. Each email comes with 3 quick responses.
Unsubscribe from a newsletter without searching for that hidden "unsubscribe here" hyperlink.
Nudging is a better version of the flag or starring option. Gmail will remind you to follow up on an email.
Google AI through Smart Compose which adapt itself to the way you write. Pretty amazing feature.
Email Scheduler is probably the most hyped option. You can write an email to be sent at a later date. Up to 50 years later. How cool [or creepy] would it be to write an email for your grand-grandkids?
Confidential mode rolled out, letting you limit message copying and downloading, and adding an optional expiry time. Snapchat of all emails.
There are many other UX changes made such as adding better notifications, multicolor stars, drag emails between tabs, preview pane, open side panel, email translation, sub-labels and more.
One major trade-off: API access
All these changes above came with a major trade off. Gmail changed their terms and conditions regarding Gmail API.
Google announced a series of changes to third party access to Gmail APIs.
The changes were intended to tighten privacy requirements for companies accessing your data from Gmail. Google is cracking down on companies that mine Gmail data (including scanning your Gmail messages) and then use that data in a way that is unknown to the Gmail user — including selling it to a third party.
As of March 31, any app not in compliance with the new rules will lose access to Gmail's API.
Evercontact is seamless, safe, secure and in it for the longhaul
A Seamless Experience + Integration
Evercontact is the essential add-on to your Gmail experience. It seamlessly extracts email signatures and turns them into valuable, up-to-date contacts in your address book or CRM. (How It Works).
The ability for any business (small, medium or extra large) to gather incoming contacts, keep them organized, sorted, updated and centralized to designated team members to access those contacts at all times is a MUST HAVE.
A lost contact = lost revenue. No question that is true.
That combined with huge time savings and zero risk of human error in the process is priceless.
Safe + Secure
At Evercontact we have always been vocal about privacy, security and compliance for over a decade. Our Privacy Policy begins with these words:
First and foremost, your contacts and your personal information belong to you and you alone. Nothing comes before user privacy.
We do not sell data and we do not share your information with anyone else. We will never use it for anything else than our core mission. Evercontact does not offer advertising nor do we sell/share information with third parties. NEVER.
Trust is earned in drops and lost buckets. We value your trust and we know that the bond between you and Evercontact relies on confidence.
In it to Win it
For over 10 years we have worked with Google, Gmail and G Suite to make Evercontact a sophisticated tool. We are not dependent on the aforementioned API and we are always in the conversation when it comes to easy to use, highly valuable add-ons to your gmail experience.
Our commitment to privacy, our best-in-show technology and the value we provide is unrivaled.
As you start to try some of these new features, keep us in mind as Evercontact fits in beautifully with the future of email.
About time you give it a try 😉